Frequently Asked Questions
FAQs on FZ1000 PROPORTIONER FOR FIRE TRUCKS
With the new FZ1000, the next evolutionary stage of proportioning systems is making its way into fire trucks. More compact, safer, more functional – the new FZ1000 GEN III features numerous improvements that make the generation of firefighting foam in fire trucks more efficient and convenient. Here you find answers on the most frequently asked questions about the FZ1000 proportioner for fire trucks.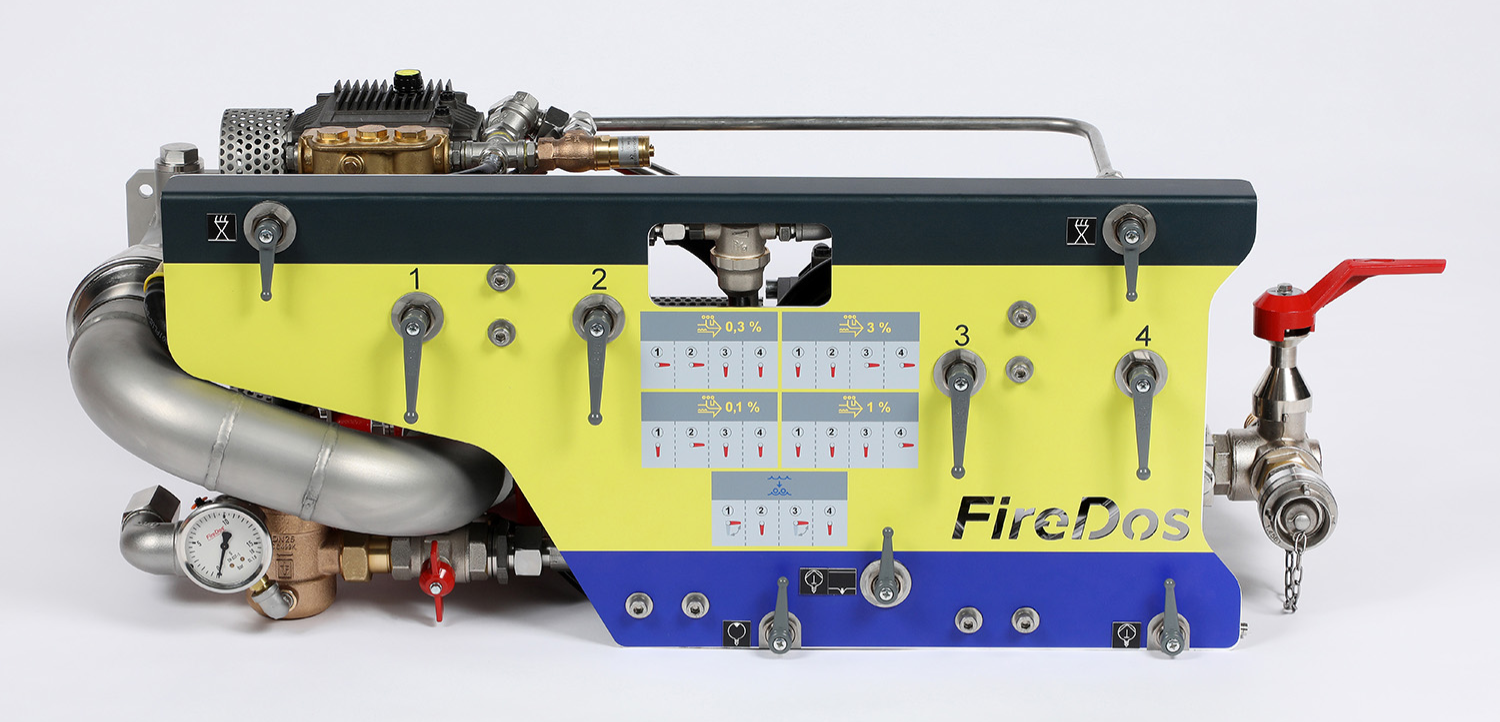 In which available proportioning rates does the FZ1000 come?
The FZ1000 is able to mix the foam agent at the following fixed proportioning rates: 0.1%, 0.3%, 1% and 3%
Other proportioning rates are not possible.
What must I do in case of an empty foam agent tank in my truck?
Option 1: Set the FZ1000 to flushing operation. Water is sucked in and proportioned instead of foam agent now.
Option 2: Use a pump to refill the truck's foam agent tank and to continue the foam operation.
Option 3: New foam agent can be primed directly via the standard external suction inlet.
Which foam agents can I use?
1% or 3% foam agents with a low to medium viscosity can be used.
Does the FZ1000 have the start-up flow reduction as a standard feature?
Yes.
How many foam pipes or jet pipes can be used at one time?
The FZ1000 has a working range of 40 – 1,000 LPM (11 – 265 GPM). The number of foam/jet pipes in use does not influence the proportioning rate or foam quality. However, the max. water flow rate of all pipes together must not exceed 1,000 LPM (265 GPM).
What is the maximum permitted hose length downstream of the FZ1000?
In theory, there is no limit. The FZ1000 is a pressure proportioner working on the displacement (piston) pump principle; i.e., no matter how long the hose line and the corresponding backpressure are, the correct quantity of foam agent is mixed into the extinguishing water at all times.
Is the FZ1000 suitable for pulsating/intermittent operation?
Yes. On the contrary to electronical pressure proportioners, the FZ1000 has no electronical measurement section that would have to determine the flow rate and the required foam agent quantity first. This is done automatically by the water motor. Depending on the flow rate, the rotor inside runs faster or slower, causing the connected piston pump to inject the exact amount of foam agent automatically.
As a machine operator, do I have to make any readjustments to the FZ1000 when the water flow rate changes?
No. Due to the proportional dependence of the water motor, this is controlled/adjusted automatically.
Is reliable 0.1% or 0.3% wetting agent production also possible at 50 LPM (13 GPM)?
Yes, this is possible.
Is the FZ1000 operated purely manually?
Yes. It is driven solely by the extinguishing water flow, and the proportioning rates are adjusted by use of levers.
do you have questions? we are happy to assist you