Optimized flow pattern, maximum range.
FIREFIGHTING MONITORS FOR WATER OR extinguishing FOAM
FireDos monitors can deliver thousands of gallons of water per minute in excess of 500 feet. The innovative, flow-optimized 'Oval Flat Design' ensures minimum pressure loss, enabling maximum throw and range for the monitors.
For flow rates from 132 to 15,850 gpm
Manually or electrically controlled
Adjust the extinguishing agent flow rate during operation and at full pressure
advantages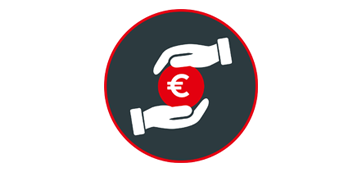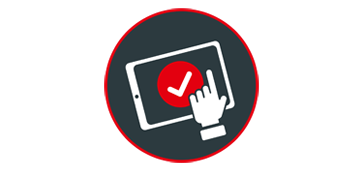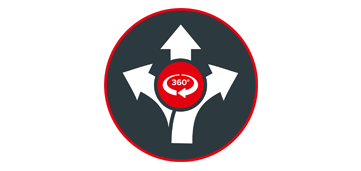 safe investment
Robust, reliable, sturdy, built-to-last
easy operation and integration
Electrically operated and compatible with thermal imaging systems
VERSATILE
Wide swiveling ranges, adjustable extinguishing agent flow rate
request a quote
You are interested in our monitors? We will be happy to help you along. Request a non-binding quotation from us!
stay informed
The FireDos newsletter always keeps you well-informed. Stay up-to-date on all aspects of fire extinguishing technology.
Subscribe now
Monitor nozzles
The monitor nozzle shapes the jet
Regardless of using water or foam, manual or electrical controls, FireDos offers the perfect nozzle for your firefighting monitor application.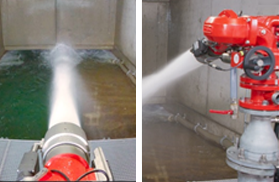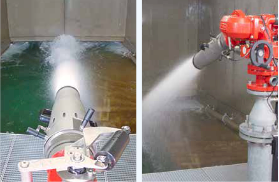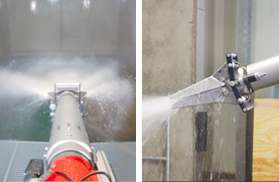 JN full jet nozzle
Maximum range
Discharge water
MPN / AMPN MULTI-PURPOSE NOZZLEs
Discharge water or low-expansion foam premix
Adjustable extinguishing agent flow rate
Stepless adjustment between hollow jet and spray jet
Circle-shaped spray jet, optional nozzle design for shaping a flat and wide spray jet
RFP Foam Pipe
Add-on to the multi-purpose nozzles
Temporary discharge of low-expansion foam
Discharge pure water
FPD / AFPD FOAM PIPE WITH DEFLECTOR
Discharge low-expansion foam
Wide jet produces a foam blanket
With the deflector in place, a wide jet can be produced for large-surface foam application
Discharge pure water
Depending on the equipment version, the following maximum swiveling ranges are available:
Horizontal (left/right): 360° (350° at DC drives)
Vertical (up/down): +/-90°, depending on the selected version
The media-exposed components are designed for working pressures up to 232 psi with lubricated-for-life bearings. Reduced friction resistance seals guarantee ease of movement even after long downtimes.
All type series are available with nozzles and foam pipes allowing flow rate adjustment even during operation and at full pressure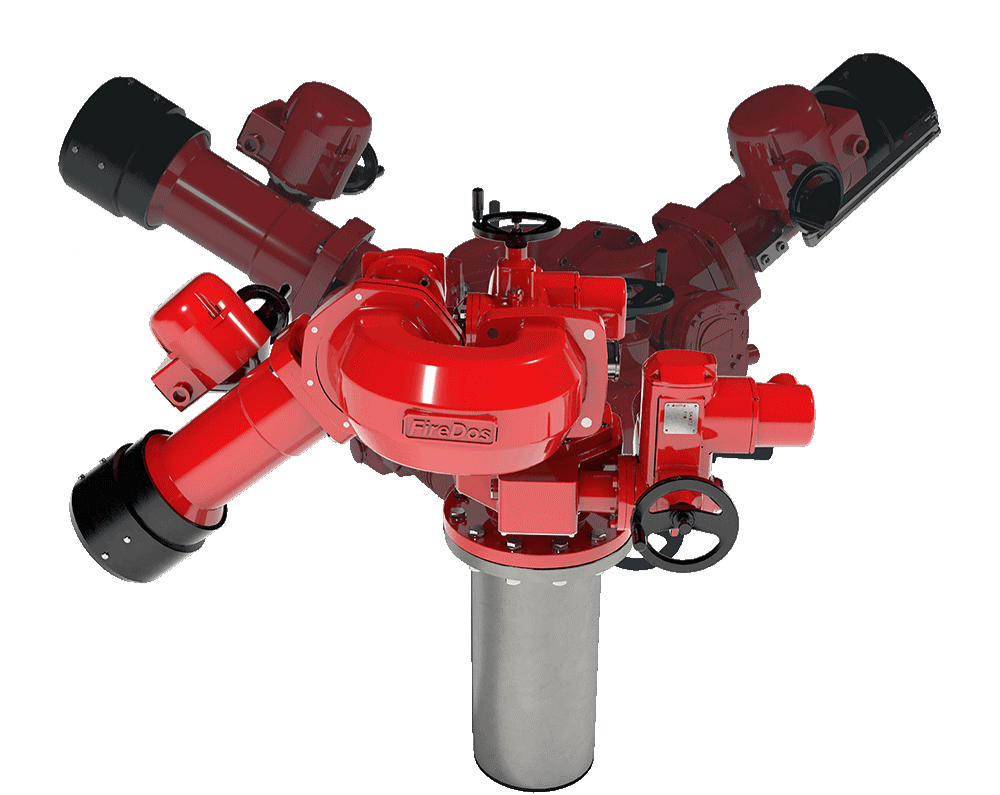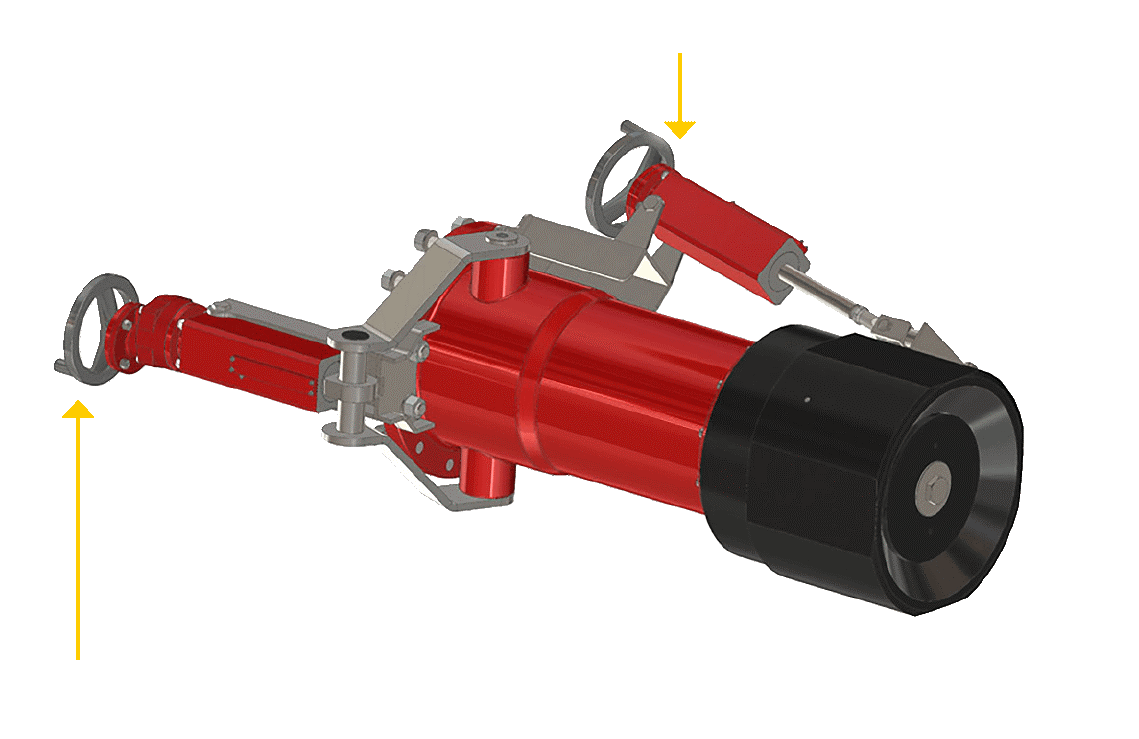 configure your monitor
Please select a monitor and its nozzle type in the animation below. After you have set your operating conditions, you will see the range and height of the extinguishing agent flow as well as the resulting recoil force. You are also welcome to output the result as a PDF.
Typical monitor applications
FireDos monitors are used wherever extinguishing agents for fire class A and B are applied, outdoors and indoors. Typical fields of application include tank farms, waste incineration plants, jetties and aircraft hangars.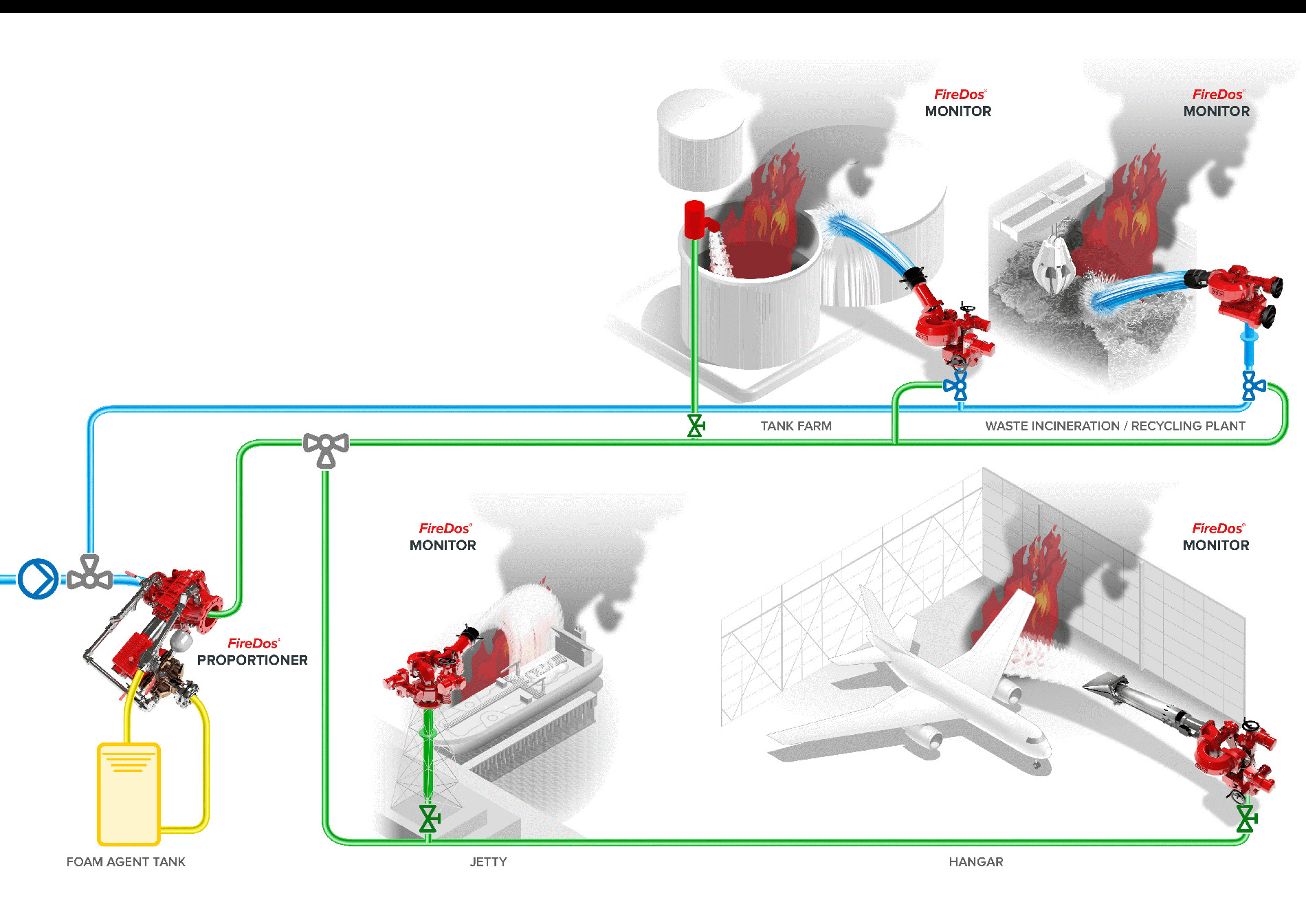 monitor and nozzle selection
Type series

M1
M2
M3
M4
M5
M7
M9
M12
Max. extinguishing agent flow rate in l/min
2000
2500
4000
8000
12000
24000
40000
60000

Multi-purpose nozzle (MPN)

x
x*
x*
x*
x*
x
Multi-purpose nozzle with adjustable
extinguishing agent flow rate (AMPN)
x
x
x
x
x
x
x
Removable foam pipe (RFP)
x
x
x
x
x
x
x
x

Foam pipe with deflector (FPD)

x
x
x
x
x
Foam pipe with deflector and adjustable
extinguishing agent flow rate (AFPD)
x
x
x
x
x

Full jet nozzle (JN)

x
x
x
x
x
x
x
* Valid for selected product and drive types. See separate datasheet and FM Approval Guide entry.

Start testing our monitors – in the virtual world of FireDos!
Explore the virtual world of FireDos and test our monitors in simulated application settings. Augmented Reality puts our monitors into your hands – just a click away.
Please note the following for easier navigation:
Use the number buttons to show the individual camera positions.
Use the buttons 'q' and 'e' to navigate up and down.
We look forward to meeting you in our virtual world!
integration into automated fire extinguishing systems
For remote-controlled operation in stationary extinguishing systems, our monitors can be equipped with functional controls. Integration into existing thermal imaging systems is possible. Users benefit from minimum reaction times and maximum reliability.
Compatible with all types of electrical drives
We offer control systems for all types of electrical drives: direct, alternating or three-phase current, regardless of voltage or frequency.


Numerous control functions
Remote control of all monitor functions: from traveling to park or working position, oscillating movement and automatic self-testing.
Portable and stationary operating panels
Controlled using mobile or permanently installed operating panels. Portable remote controls can also be implemented.
Individual integration into existing systems
FireDos monitors process signals from early fire detection systems by various manufacturers. In addition, they support the signal exchange with superior control systems and fire alarm panels. Integration into CCTV monitoring solutions is also possible.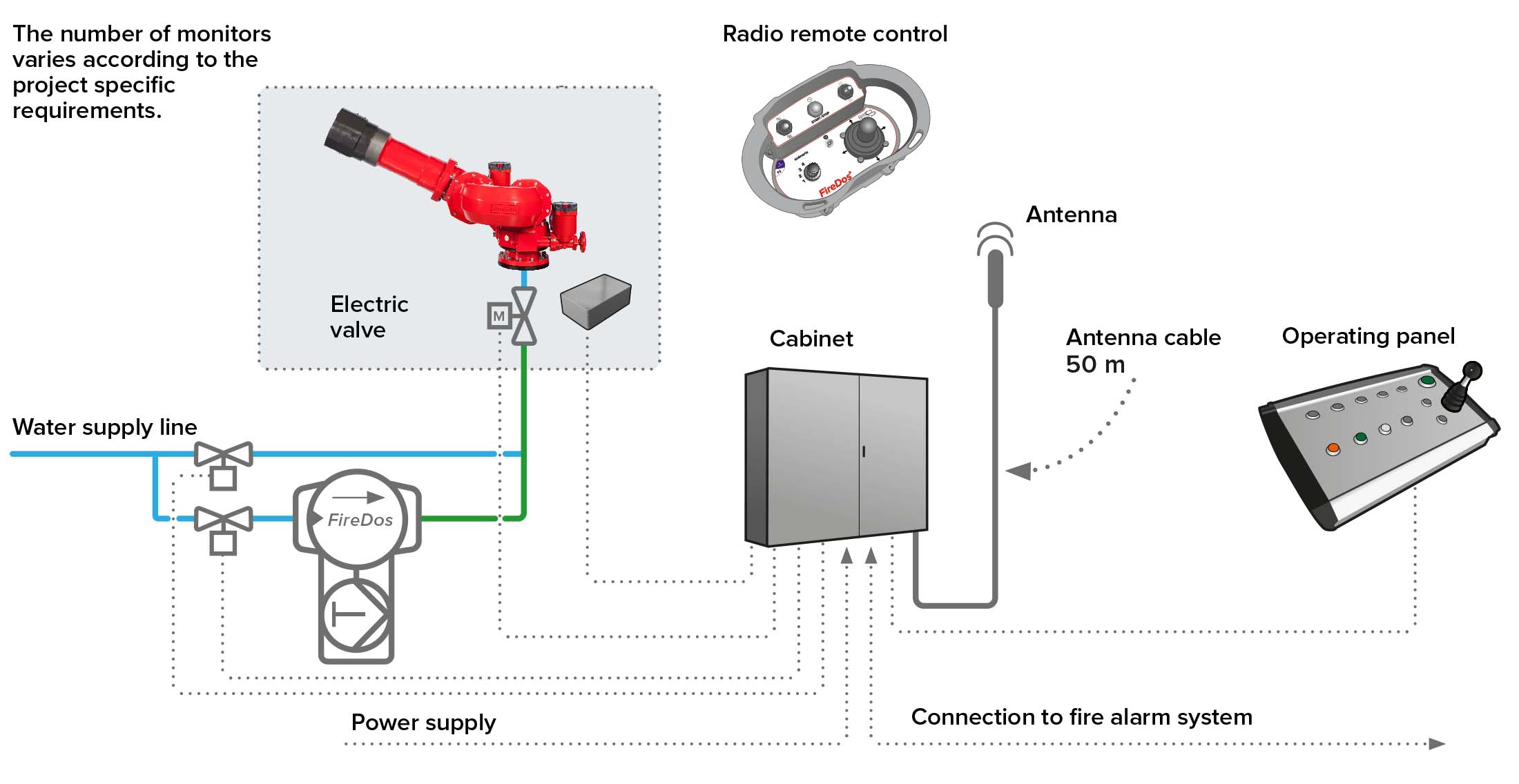 technical documentation
| Type size | Download |
| --- | --- |
| M1 | |
| M2-M7 FP-FPD AC | |
| M2-M7 FP-FPD AC 3-Phase | |
| M2-M7 FP-FPD DC | |
| M2-M7 FP-FPD L+MO | |
| M2-M7 MPN AC | |
| M2-M7 MPN AC 3-Phase | |
| M2-M7 MPN DC | |
| M2-M7 MPN L+MO | |
| M2-M9 AMPN AC | |
| M2-M9 AMPN AC 3-Phase | |
| M2-M9 AMPN DC | |
| M2-M9 AMPN L+MO | |