Fire protection is a major challenge in chemical and petrochemical production: Many highly flammable substances are processed with varying risks of fire hazards and explosive potential. In older facilities, different fire protection standards were implemented, depending on the age of the chemical plant. No matter if a monitor or a sprinkler system is used: foam is often the preferred system of choice.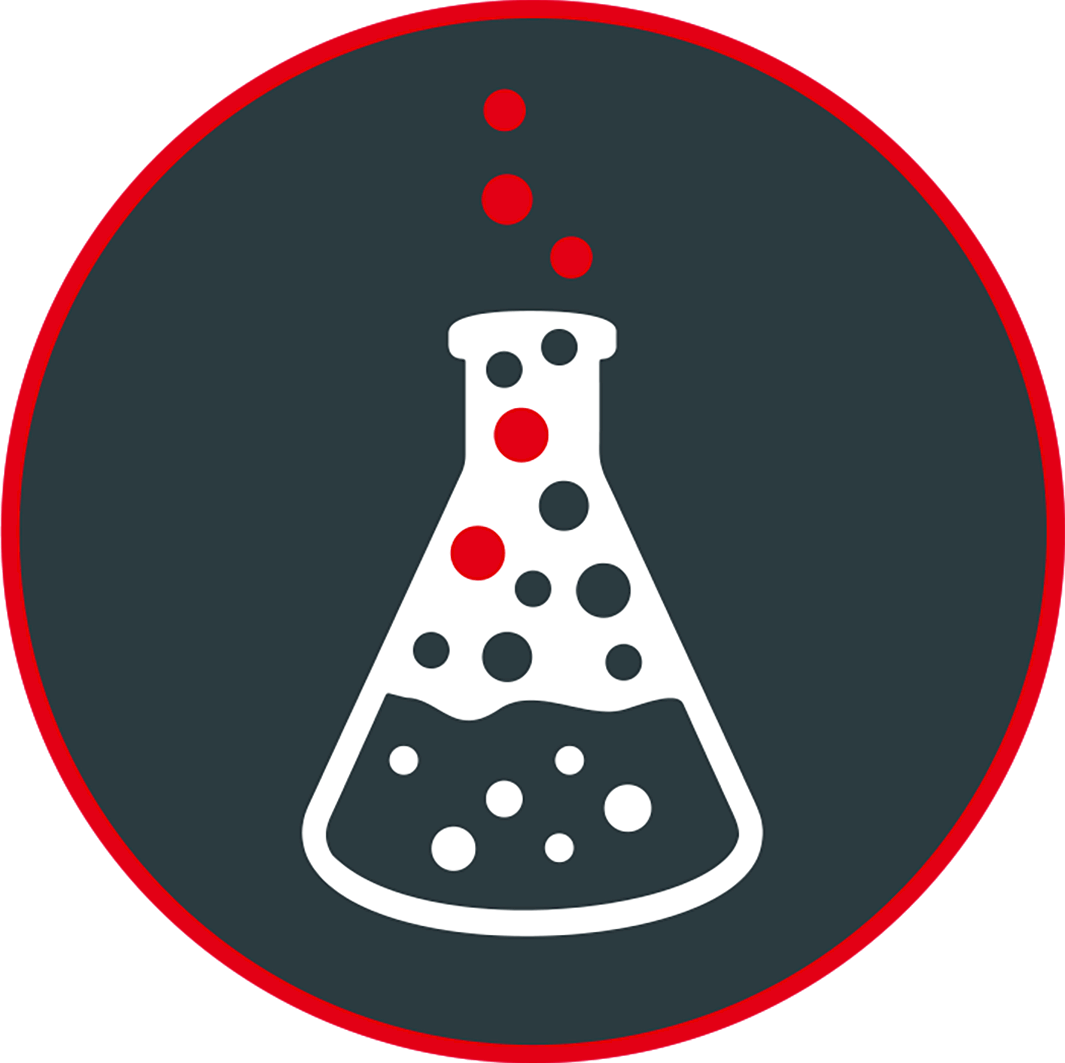 Goods to be protected:
Highly flammable substances such as oils, fuels, solvents or liquids containing alcohol
Requirements to the extinguishing technology
From the perspective of fire protection, three areas at petrochemical plants require special protection:
Production area
Along with deluge systems, permanently installed monitors are used that are supplied from stationary foam proportioners.
Tank farm
Flammable liquids are normally stored in tanks with a floating cover or roof while explosion-risk fluid tanks have a fixed roof. In both cases, the foam is discharged from a foam pourer in the event of a fire, with the foam pourer being supplied from a stationary proportioner. In addition, it is recommended to use mobile extinguishing technology for firefighting.
Material / bulk goods / high-rack storage
In warehousing, deluge systems are used besides sprinkler systems, flooding the halls with extinguishing foam in conjunction with stationary proportioners.
Stationary proportioners for efficient firefighting with foam
On the site of petrochemical plants, pump rooms are often located close to water tanks storing extinguishing water for emergencies. The operating principle of the stationary FireDos proportioners is purely mechanical as they are driven solely by the flow of extinguishing water. This allows installing the equipment at a safe distance from risk areas, i.e., in the vicinity of the extinguishing water tanks. Furthermore, FireDos proportioners can deliver premix over large distances with high flow rates thanks to the low-pressure loss.
In addition, the proportioners are efficient and offer significant cost savings over other systems. The foam agent is dosed precisely, allowing the foam agent to work at its optimum mixing rate for each type of application. FireDos proportioners also deliver high-viscosity foam agents and allow testing without generating foam or premix. Another advantage: The units are suitable for remote monitoring and remote testing of the proportioning rate.
Long-life monitors with maximum reach
In Petrochemical production areas, fixed monitors or deluge systems are used. Monitors provide advantages as they can be more cost-effective as pipework is minimised. A monitor's nozzle is decisive in the success of extinguishing regardless of wind conditions.
Thanks to the flow-optimized Oval Flat Design of the FireDos monitors, pressure loss through the monitor is minimal, allowing the monitors to achieve the greatest reach. In addition, FireDos monitors are manufactured in seawater-resistant materials and can be used as ATEX versions in areas of explosion risks.
In high-risk areas, integrating the monitors into automated fire extinguishing systems is recommended. All FireDos monitors can be manually operated or using remote control.
Mobile extinguishing technology for flexible use
Factory fire brigades at petrochemical plants increasingly use mobile extinguishing units such as fire trailers that are versatile and flexible in use as back up to fixed systems. Fire trailers are designed for rapid deployment and are simple to operate. Equipped with a proportioner, monitor or a combination of both, fire trailers help to reduce the demand for personnel in a risk area.

stationary proportioners
The purely mechanical FireDos proportioners are highly reliable. They guarantee a constant proportioning rate and the delivery of all foam agent types, also high-viscosity foam agents.

Monitors
Firefighting monitors are located in a tank farm as permanent installations or as an integral part of a mobile fire trailer. They can be integrated into automated fire extinguishing systems and be operated by remote control.

Fire Trailers
They are instantly ready everywhere: Fire trailers equipped with proportioners, monitors or a combination of both.
Fire risks in petrochemicals
Explosions
The biggest risk in the petrochemical industry are explosions due to complex production processes under extreme reaction conditions and with highly flammable substances.
Tank farm fires
Including risks such as rim seal fires, vapor fires, fires in the dike area, boil-overs and full-surface tank fires.
We are pleased to help
Live Demo
Would you like to test our products on-site? Contact us to appoint a LIVE Demo. We look forward to talking to you in person.
GOT QUESTIONS?

Contact us!
Phone +49 6036 9796-0
Email: info@firedos.de
FireDos Service FEATURES
We provide you with comprehensive service – from planning the extinguishing technology solution through commissioning to maintenance. No matter what project phase you are in, we won't let you down. Our service personnel will be on-site quickly, worldwide.
Typical Applications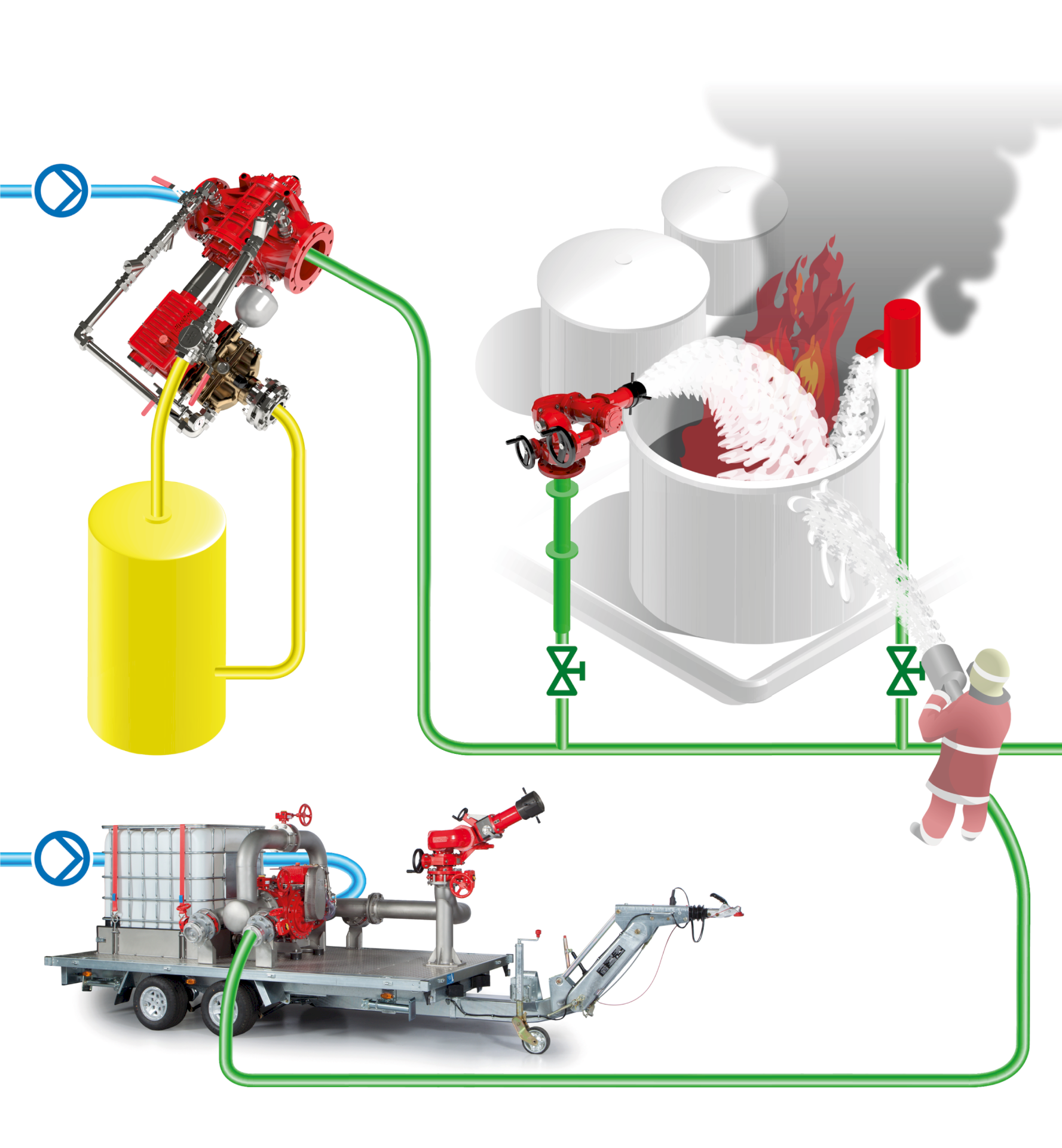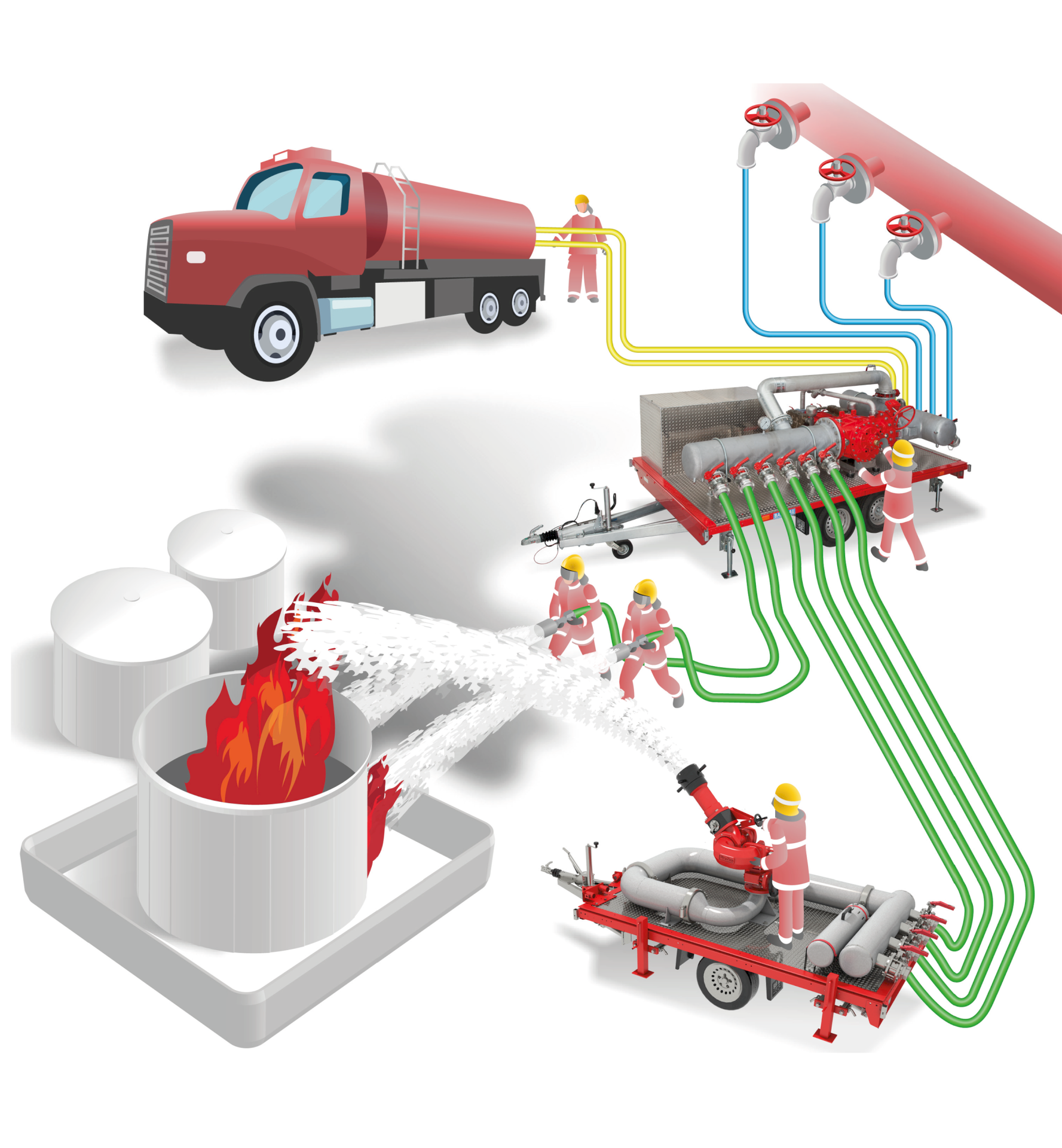 Explore the virtual world of FireDos!
Discover the virtual FireDos World and try various product configurations in simulated application worlds. Augmented Reality displaying lets you integrate our products directly into your environment – by just one click.
Please observe the following for easier navigation:
Use the number keys to view the individual camera positions.
Using the keys 'q' and 'e', you can navigate up and down.
Enjoy discovering! We look forward to seeing you!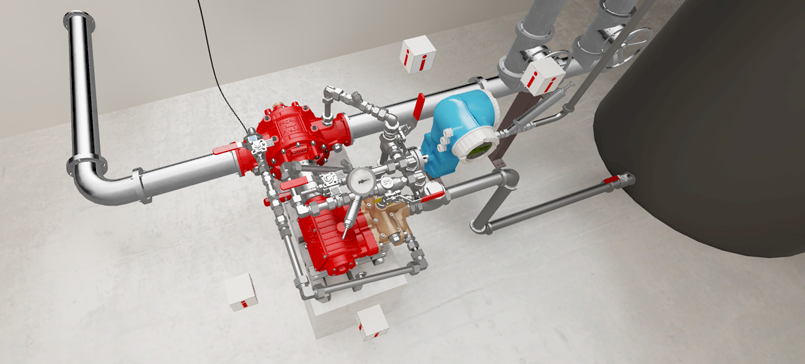 Developing a fire protection concept: Make sure to consider the following
A comprehensive fire protection concept covering all risk areas: production, tank farm and storage.
A tailored combination of stationary and mobile extinguishing technology.
Stationary extinguishing technology that enables efficient firefighting with foam and that is placed at a safe distance.
Mobile extinguishing technology for flexible use.
Sturdy monitors with long reach.
Resource-saving use of extinguishing technology, reducing the presence of personnel in risk areas and allowing firefighting from a safe distance.