Reducing risks with a flexible fire protection concept
Oil & gas industry: Tank farms
Extinguishing fires in tank farms of the oil and gas industry is one of the most challenging scenarios that firefighters and emergency services must prepare for. At the same time, the number and size of tank farms worldwide is ever-increasing. To reduce risks and protect assets and personnel, stationary extinguishing systems in tank farms are supplemented by mobile extinguishing technology providing additional safety and flexibility.
Fire protection appliances for the oil and gas industry are classified as fire class B. This means they require special extinguishing systems, i.e., foam extinguishing systems, as foam is considered the best extinguishing agent for liquid fires. Water is also used as an extinguishing agent for tank wall cooling and gas mitigation applications.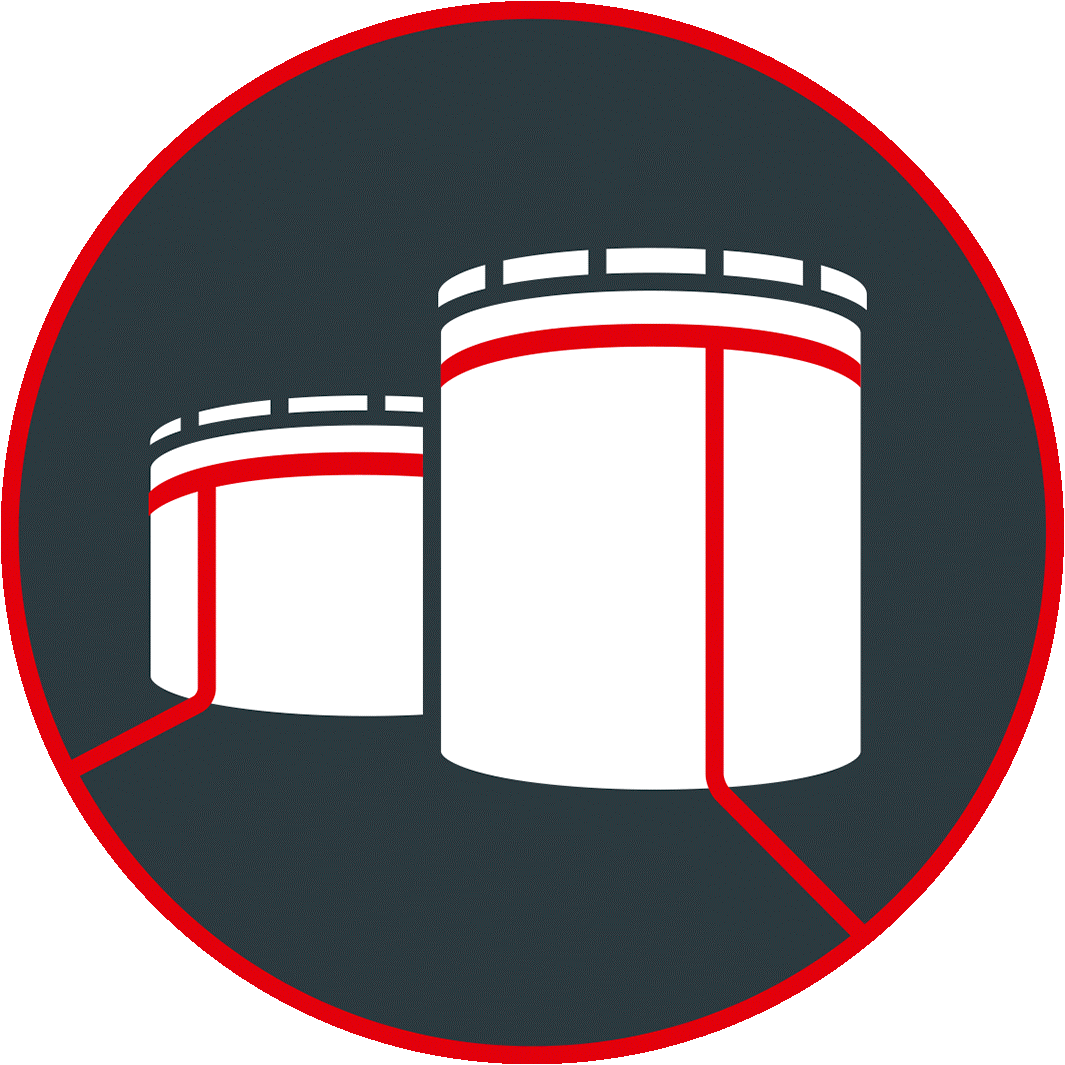 Goods to be protected:

Flammable liquids/substances such as crude oil and polar solvents, which are soluble in water, such as ethanol and alcohols; gases, chemicals, petrochemical liquids
Requirements for firefighting technology
FireDos manufacture highly reliable stationary proportioners ideal for overcoming complex firefighting scenarios with a simple solution reliant only on the extinguishing water flow. This minimises the additional power requirements of electric motors and standby backup diesel generators, as the concept is purely mechanical.
Many oil & gas industry applications require a high level of certification relying on the third party certification of VdS or FM to ensure a high operating and certification standard. All FireDos equipment meets this standard, ensuring peace of mind for the purchaser.
The purely mechanical concept lends itself ideally to mobile equipment such as trailers where the foam proportioning pump is powered solely by the extinguishing water from the hose connections. Additionally, the wide flow range and pressure independence mean a trailer can be located and positioned almost anywhere for convenience and safety.
The increasing trend for smart extinguishing technology provides safe, remote operation from a distance and remote maintenance enables our proportioning units and monitors to be remotely tested and controlled.

stationary foam proportioners
The purely mechanical FireDos proportioners are highly reliable. They guarantee a constant proportioning rate and delivery of all foam agents, including high viscosity foam agents.

firefighting monitors
Monitors are installed in tank farms as fixed extinguishing units or as part of a mobile fire trailer. They can be integrated into automatic fire extinguishing systems, and they can be operated via remote control.

fire trailers
Convenient and easy to deploy: Fire trailers, equipped with proportioners, monitors or a combination of both.
request a quote
You are interested in our proportioners? We will be happy to help you along. Request a non-binding quotation from us!
stay informed
The FireDos newsletter always keeps you well-informed. Stay up-to-date on all aspects of fire extinguishing technology.
Subscribe now
Fire risks in tank farms
Rim seal fires:
Rim seal fires frequently occur in tanks with a floating roof and can be extinguished quickly using stationary extinguishing systems, provided they are detected early enough. However, if a fire persists longer, the seal may be damaged and cause an oil spill. This poses the risk of an extensive fire. In addition, this damage or excess use of water may cause the floating roof to sink, causing a full-surface fire.


Fires caused by vapors:
Vapors may leak during the storage of petrochemical liquids and are at risk of catching fire by, e.g., lightning.


Embankment:
Tank farms are usually encompassed by a sealed embankment, dike or bund area or stand inside a pond to contain leaking fluids. Leaks from valves and associated equipment can catch fire within the bund area. Likewise, liquids may catch fire if they leak from the tank unintendedly.


Explosion:
Explosions can damage stationary extinguishing systems, meaning a mobile backup solution is the only choice as a fire protection system.


Boilover:
A boilover happens as a result of a longer duration crude oil tank fire where trapped water quickly evaporates, resulting in a fireball.


Full-surface tank fire:
In the worst case, even a sinking of the floating roof can occur. If this surface catches fire, a full-surface tank fire develops in a minimum of time, often relying on fixed foam monitor and mobile solutions to assist.
We are pleased to help.
LIVE Demo
test our products on-site or in our virtual FireDos World directly in a simulated tank farm? Contact us to appoint a LIVE demo. We look forward to discussing your solution.
your contact person
Stuart Phythian
Market Manager Oil & Gas
Ph. +49 6036 979646
FireDos Service features
We provide you with comprehensive service – from planning the extinguishing technology solution through commissioning to maintenance. No matter what project phase you are in, we won't let you down. Our service personnel will be on-site quickly, worldwide.
Typical fields of application in the oil & gas industry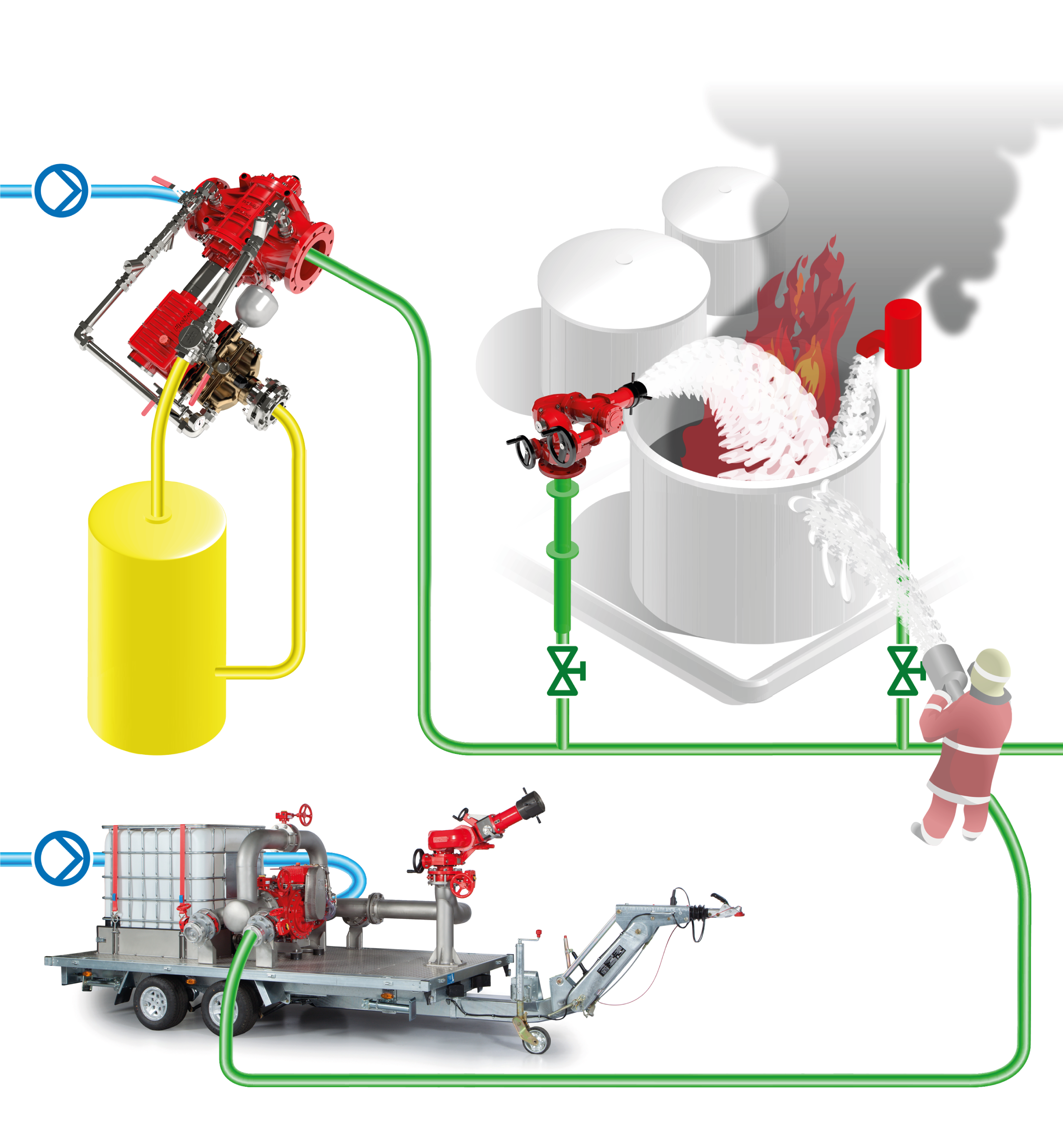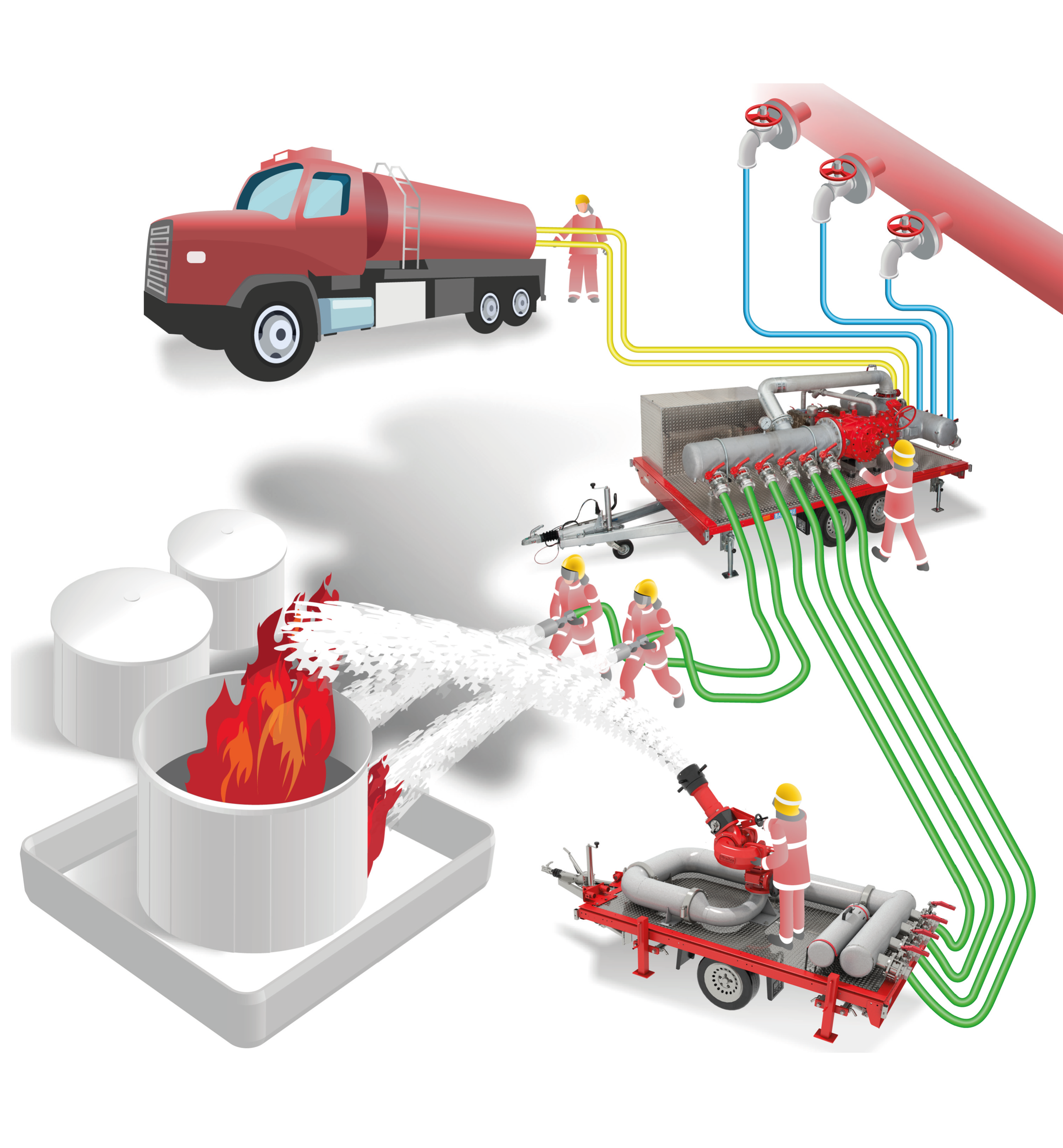 Explore the virtual world of FireDos!
Discover the virtual FireDos World and try various product configurations in simulated application worlds. Augmented Reality displaying lets you integrate our products directly into your environment – by just one click.
Please observe the following for easier navigation:
Use the number keys to view the individual camera positions.
Using the keys 'q' and 'e', you can navigate up and down.
Enjoy discovering! We look forward to seeing you!
Developing a fire protection concept: Make sure to consider the following
A suitable fire protection concept with alternative scenarios which is regularly adjusted to the particular situation.
Besides fixed extinguishing systems, there must always be access to sufficient mobile systems as a backup
Suitable foam agent concentrate
Sufficient foam agent supply
Sufficient water supply
Extinguishing appliances exist in sufficient numbers, are quickly and conveniently accessible, placed strategically correctly and ready for operation
Well-trained personnel
Rapid implementation of a suitable response plan