Fighting fires from a safe distance, regardless of water levels and weather conditions
Jetties and freight ships
Adaptation to the surrounding conditions will make or break the fire protection at jetties and on freight ships. When loading and unloading vessels, there is the risk of leaking fuel or liquid natural gas becoming an ignition source. Changes of water level and weather must be considered, which requires the fire extinguishing technology to be sturdy and flexible.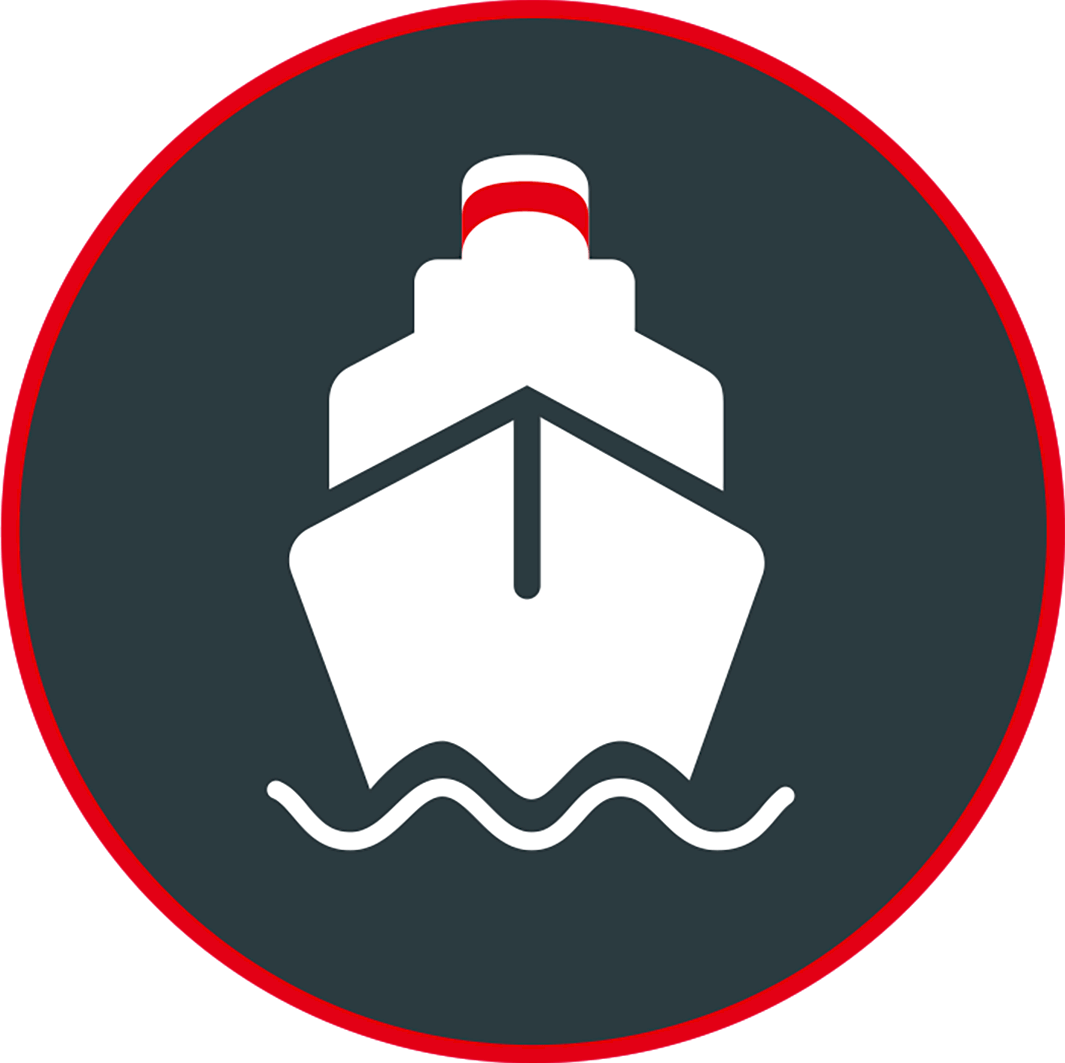 Goods to be protected:

Flammable liquids, such as fuel and liquid natural gas
Loading arms, pump manifolds
Engine rooms, freight goods
Requirements of firefighting technology
Generally, it is distinguished between extinguishing technology that is installed on shore, i.e., for jetty protection, and extinguishing technology that is mounted on freight ships.
On shore: Automatic and pinpointed extinguishing at maximum reach
Firefighting monitors that are installed for the protection of jetties must be extremely sturdy. All FireDos monitors are made of a high-grade seawater-resistant aluminum alloy. Their water-/media-exposed parts are designed to handle pressures of up to 16 bar and bearings are lubricated for life. In addition, seals with reduced friction resistance require only low operating force, even after long down-times.
Firefighting monitors are normally installed on towers, enabling efficient firefighting even under headwind conditions and protecting them from rising water levels. FireDos monitors are designed for extinguishing agent flow rates from 500 l/min up to 60 000 l/min. Thanks to the flow-optimized Oval Flat Design, the pressure loss is very low, enabling the monitors to achieve maximum reach. Along with the integration into automated fire extinguishing, this extended reach makes the remote-controlled FireDos monitors fit for pinpointed fire extinguishing from a safe distance.
On-board solutions: Quick firefighting with foam
On-deck monitors are mainly intended to discharge low-expansion foam. Monitors are normally located along the central line of the deck to fight a fire as fast as possible and to keep it from spreading. Doing so, a 25% dimensioning safety is recommended: The monitor should be dimensioned and positioned in a way to reach a distant target at 75% of its maximum reach and flow rate under windless conditions.
Proportioners for firefighting with foam
Fires in the jetty area may require extinguishing with water or foam. Stationary proportioners are installed in the sprinkler control room to supply the foam for extinguishing. On freight ships or oil tankers, stationary proportioners for firefighting with foam are used both on deck and inside the vessel. Also there, the units should be placed at a sufficient distance from the risk area.
FireDos proportioners are suitable for all foam agent types, including high-viscosity foam agents. These units are extremely reliable thanks to their purely mechanical product concept. The eco-friendly testing of the proportioning rate without generating premix or extinguishing foam also enables savings as there are no cleaning costs for disposing of premix or extinguishing foam.


firefighting monitors
Our firefighting monitors can be integrated into automated extinguishing systems and are fit for remote-controlled operation.
stationary proportioners
Our stationary proportioners are highly reliable. They guarantee a constant proportioning rate and the delivery of all foam agent types.
Fire risks at jetties and on freight ships
Leaking fuel or liquid natural gas
When loading and unloading the ships, there is the risk of leaking fuel or liquid natural gas becoming an ignition source. This is typically caused by improper operation of couplings and pumps.


Short circuits
Wiring faults or defective insulation may cause short circuits.


Overheating
If boilers or pumps in engine rooms overheat, oils and fuels may catch fire.
We are pleased to help you
Live Demo
Would you like to test our products on-site? Contact us to appoint a LIVE Demo. We look forward to talking to you in person.
got questions?
Contact us!

Ph.. +49 6036 9796-0
Email: info@firedos.de
FireDos Service features
We provide a comprehensive service – from planning the extinguishing technology solution through commissioning to maintenance. No matter what project phase you're in, we won't let you down. Our service personnel will be on-site quickly, worldwide.
Typical applications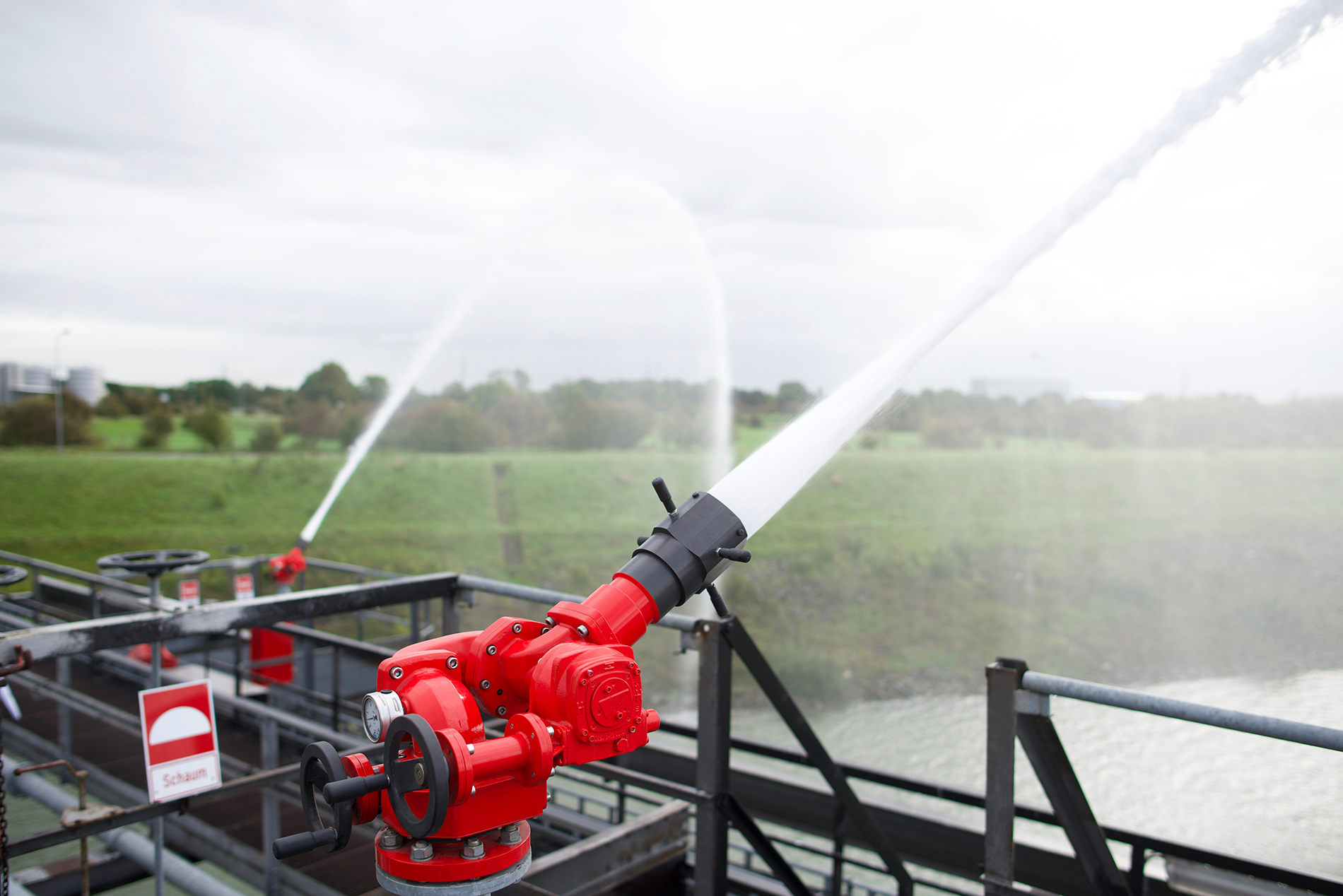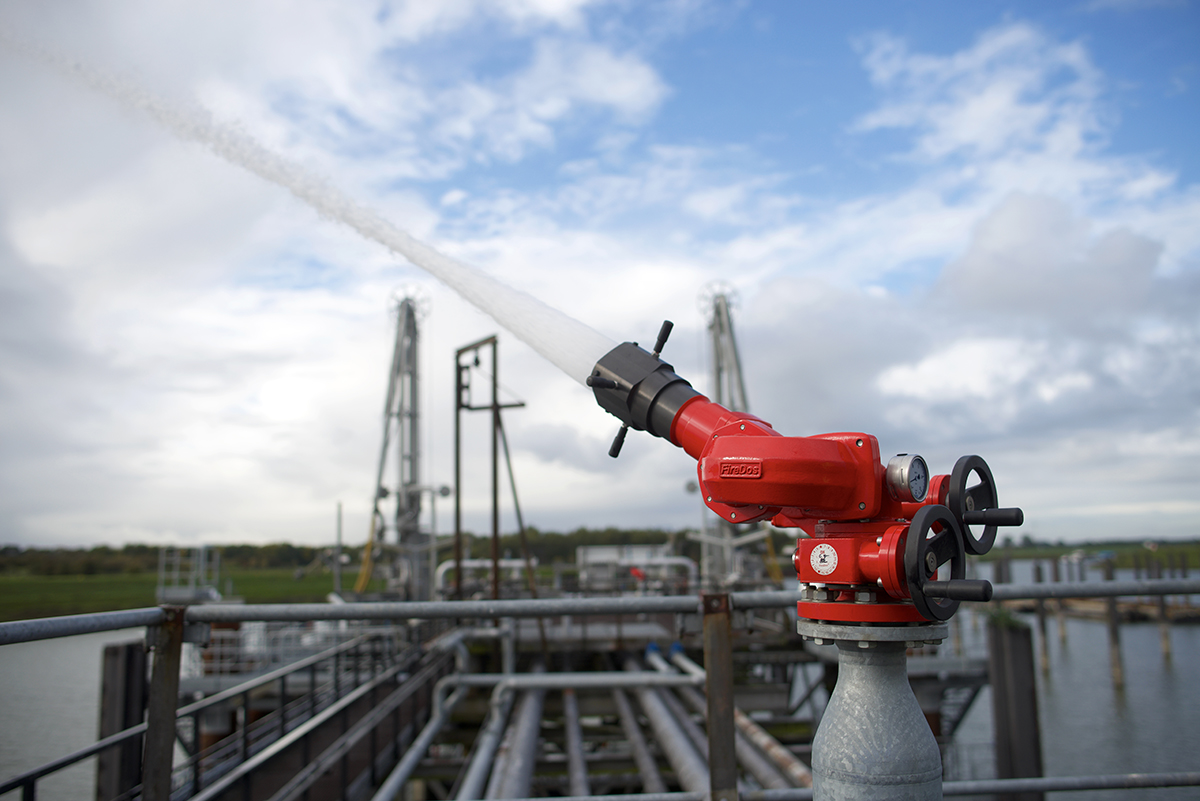 Developing a fire protection concept: Make sure to consider the following
The firefighting technology must be sturdy enough to cope with the weather conditions.
The need for pinpointed extinguishing from a safe distance requires automated extinguishing technology that allows flexible positioning.
The following guidelines for system design should be observed:


International Maritime Organization (IMO)
Safety of Life at Sea, 1974 (SOLAS)
Code for Fire Safety Systems (FSS)
Explore the virtual world of FireDos!
High-rack warehouse, tank farm or waste incineration plant – explore the virtual world of FireDos and test various product configurations in simulated application settings. Augmented Reality puts our products into your hands – just a click away.
Please note the following for easier navigation:
Use the number buttons to show the individual camera positions.
Use the buttons 'q' and 'e' to navigate up and down.
We look forward to meeting you in our virtual world!