Fire brigades need reliable and versatile extinguishing technology that is easy to use and can adapt to on-site conditions. We equip fire trucks with suitable foam proportioners and provide expertise in mobile firefighting technology, including portable proportioners and fire trailers. Our firefighting technologies are tailored for volunteer fire brigades and factory and municipal/professional fire services.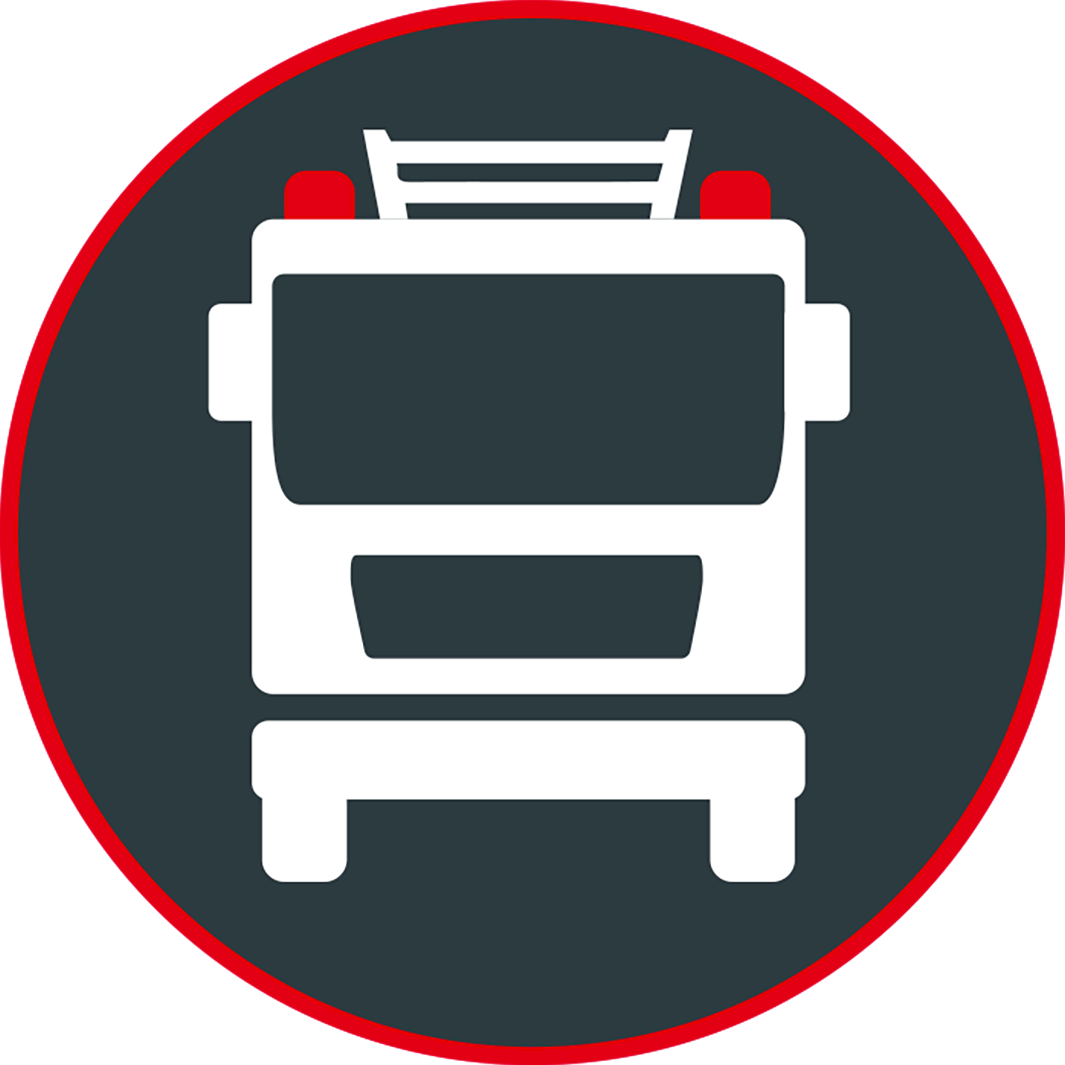 Goods to be protected:
Flammable substances of the fire classes A and B, i.e., solids such as paper, wood, textiles, hay, straw, plastics and coal; and liquid/liquifying substances like wax, alcohol, tar, petrol, resin, paint and many types of plastics.
Requirements to the firefighting technology
When every second counts, firefighting technology must be ready for immediate use. Reliable operation and intuitive handling are a must in stressful situations. In addition, the extinguishing technology must be easy to integrate into existing equipment. The requirements of fire brigade extinguishing technology are expertly managed by our engineers.
Instant readiness and highly reliable
When installed in fire trucks, proportioners must be ready to operate and generate the required proportioning rate immediately in the case of an emergency. Therefore, FireDos proportioners are constantly ready, and the required proportioning rate is instant and remains constant.
Thanks to the particular pump type, the proportioning rate is kept at any water pressure, even when it varies. The equipment is driven solely by the extinguishing water flow due to the purely mechanical product concept. No electricity is required, meaning no additional load to the vehicle's onboard power supply. This guarantees reliable operation.
Another advantage is that the foam or wetting agent can remain inside the proportioning pump meaning no flushing is required. This ensures that the set proportioning rate is instantly available in the next extinguishing operation.
For the generation of foam and wetting agent
Not all class A or B fires should be extinguished with foam. Depending on the fire type, using wetting agent is recommended. To produce either extinguishing agent, a foam or wetting agent must be mixed into the extinguishing water flow at high precision. FireDos proportioners are used to produce foam or wetting agent, being able to handle all foam agent types, also high-viscosity, alcohol-resistant or fluorine-free ones.
Fit for all fire trucks
The FireDos proportioners are fit to be installed in all fire truck types, including crew cab or tanker fire trucks, roll-off containers and aerial ladder trucks.
Perfect integration, easy operation
To ensure rapid intervention in an emergency, the extinguishing technology must smoothly fit into the technical environment and be compatible with all nozzles and discharge devices.
When using FireDos proportioners, both length and layout of the hose lines on-site can be any lengths required as changing water pressure does not influence the proportioning rate.
The proportioners suit all discharge devices: hollow-jet nozzles with or without foam attachment, medium/combined/low-expansion foam pipes, high-expansion foam generators and firefighting monitors.
Quick attack equipment can be used with foam or wetting agents. The number of outlets or manifolds can be changed during operation. The proportioner can be placed anywhere in the hose layout.
The proportioners are operated intuitively, ideal for stressful situations. Correspondingly, only little training is required. The manual controls are sturdy and can also be operated when wearing gloves.
Mobile firefighting technology for maximum flexibility during operation
Mobile firefighting equipment like fire trailers is less costly than stationary systems and, in addition, can be deployed and put into operation quickly, anywhere, for maximum versatility. Equipped with a proportioner, monitor or a combination of both, the use of such a fire trailer can safeguard and reduce the exposure of personnel in high risk areas. Portable proportioners, with or without a carrying frame, allow fire brigades more flexibility in mobile operation and are suitable e.g. for wildfire fighting or other special applications.

Proportioners for fire trucks
Our proportioners were designed especially for use by fire brigades and generate foam or wetting agent. They are permanently installed in fire trucks.

Portable proportioners
Our portable proportioners are optimized for varying firefighting scenarios and offer maximum versatility in mobile operation. They are designed for wetting agent and foam.

Fire trailers: Proportioners and monitors
They are instantly ready in any place: Fire trailers, equipped with proportioners, monitors or a combination of both.
We are pleased to help
Individual technical brief descriptions
Planning a fire truck and interested in a FireDos proportioner? We will be pleased to assist you and prepare the technical brief descriptions of our products with you.
Your contact person
Tristan Reitz
Market Manager Fire Service
and Mobile Fire Protection
Ph. +49 6036 979632
Live Demo
You are planning a fire truck and would like to know more about a FireDos proportioner? We would be happy to arrange an appointment with you for a LIVE demo of our products. Contact us!
Firefighter Events Coming Up
Visit us at the following events and get to know our latest product developments! We look forward to meeting you!
Florian
2022-10-13 to 15, Dresden, Germany