If you are looking for a meaningful job, this is just the right place. Our products for firefighting protect human lives and facilities. Our employees play a major role in the successful development of our business worldwide, because we encourage them to play an active part in shaping and developing our processes and products. We trust our employees and appreciate the advantages of an agile and flexible corporate structure with flat hierarchies. Working at FireDos, you can make a difference: Together with our customers, we develop innovative solutions for firefighting that are not only extremely safe, but also sustainable.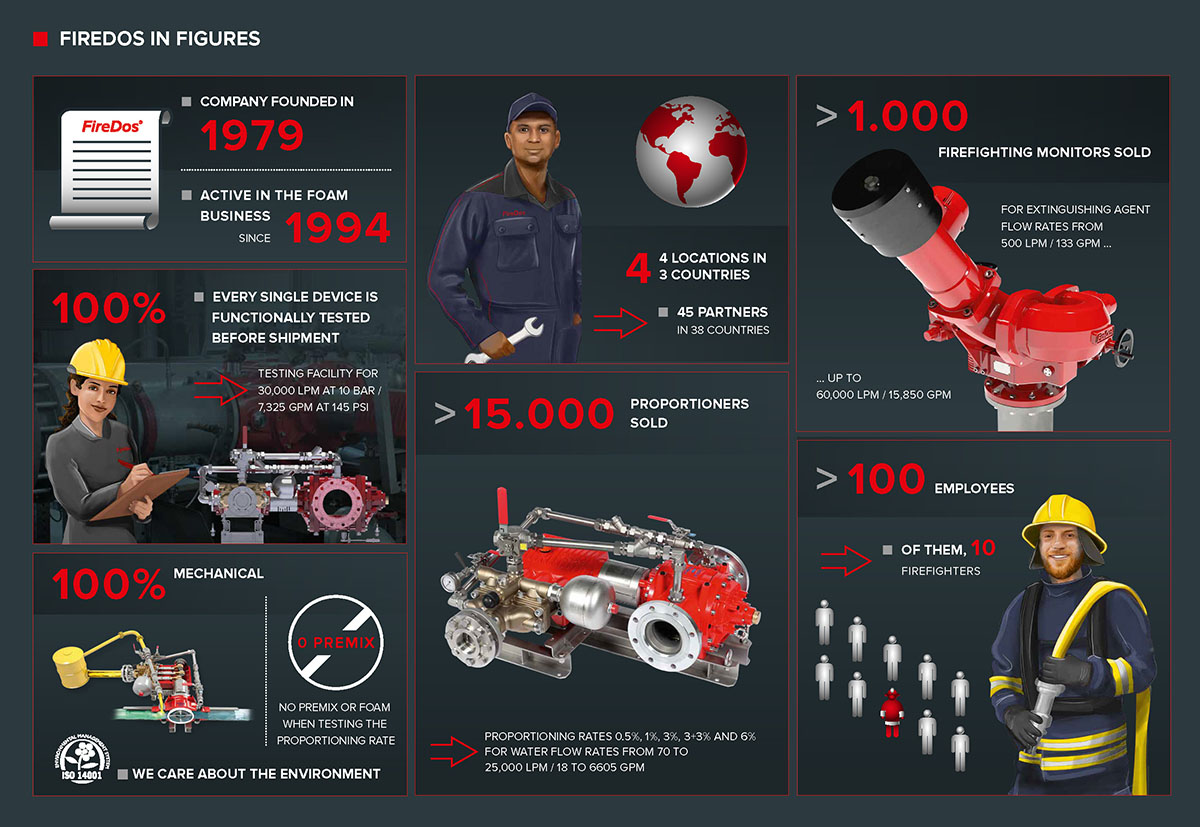 We provide safety. and protect the environment.
developing innovations
It all began in 1979 with the development of industrial dosing systems. Liquids such as pesticides were dosed - and finally, foam agents for firefighting with foam. In addition to stationary proportioners, we also develop and distribute mobile units for installation in fire trucks. To date, the purely mechanical product concept, consisting of a water motor and a piston pump, is unique and successfully in use worldwide, more than 15,000 times. This means 15,000 times more safety for people, buildings, facilities and equipment. Our product portfolio is growing in line with our worldwide customers' requirements to fire protection. In addition to proportioners, it also includes powerful firefighting monitors, convenient extinguishing trailers and clever early fire detection systems.
Working at FireDos means developing tomorrow's fire protection solutions.

FoR our customers, WorLDwide
Our customers include plant designers, fire departments as well as industrial companies. The areas of application are wide-ranging. However, our products are most frequently used in the following industries: waste disposal, petrochemistry, aviation, fire brigades, oil and gas, maritime and warehousing. In order to provide our customers with the best possible service worldwide, we work together with partners in over 30 locations.
Working at FireDos, you focus on the satisfaction of our customers and are part of a worldwide network.
WITH SUSTAINABLE PRODUCT CONCEPTS
FireDos is certified according to ISO 14001, the globally accepted and applied standard for environmental management systems. The purely mechanical product concept of our proportioners is not only extremely reliable, but also sustainable. This is because the proportioners require no external energy. Moreover, when testing the proportioning rate, no premix is produced that would have to be disposed of at great expense. The environment is close to our hearts because, as the saying goes, "fire protection is environmental protection". This statement becomes even more valid when considering the problem of fluorine-containing foam agents. Therefore, our proportioners are designed to handle fluorine-free high-viscosity foam agents, too.
Working at FireDos, you develop solutions – for people and the environment.
REDUCING RISKS,
PROTECTING PEOPLE
A SUSTAINABLE
PRODUCT CONCEPT
OUR ORIENTATION:
INTERNATIONAL
We are anything but boring.
who we are LOOKING for
We are looking for committed employees who feel comfortable working for a medium-sized company and who appreciate and benefit from the advantages of flat hierarchies. This means freedom, but also responsibility. Of course, enthusiasm for what we do also counts. Currently, 10 of our employees are active in volunteer fire brigades and share their knowledge on a daily basis. We are very happy to have them. To make a long story short: We are looking for companions who contribute their ideas and actively shape the development of the company. Because there is one thing that the FireDos way has certainly not been during the past years: boring. And it will continue to be exciting.
Made in Germany – from Germany to the world.
OUR LOCATIONS
FireDos is active worldwide and has more than 100 employees. Besides our headquarters in Woelfersheim (Hesse, Germany) we have one production site in Falkenau (Saxony, Germany), one production site in Olesno (Opolskie, Poland) and one branch office in Houston, Texas (USA). We offer our employees individual development and career opportunities at all our locations.

HEADQUARTERS IN
WOELFERSHEIM
This is where it all began, FireDos was founded here in 1979. About 80 employees work in Woelfersheim.

PRODUCTION SITE in
FALKENAU
Our experts for highly complex milling operations work in Saxon Floeha/Falkenau.

PRODUCTION SITE in OLESNO, POLAND
Our staff in Olesno is specialized in turning/milling and welding technology – an important component of the production.

BRANCH OFFICE IN HOUSTON/TEXAS, USA
In 2019, our branch office in the USA was established to provide optimum support for our customers on site.
Are fruit basket and foosball table the measure of all things?
WE OFFER YOU FREEDOM AND ESTEEM —
AT GOOD CONDITIONS
Pleasant collegial working atmosphere
Flexible work hours and part-time models
A good work-life balance through remote working
Fair salaries based on industry-standard wages
Performance-related salary components
30 days vacation
Short decision-making channels
Active participation through a cooperative management style
Modern office space - we are currently rebuilding
contact
Sven Leichtweiss
Human Resources Manager
Phone: +49 6036 97 96-15