Compact, safer, more functional – the next generation!
FZ1000 FOAM PROPORTIONER FOR FIRE TRUCKS
With the new FZ1000, the next evolutionary stage of proportioning systems is making its way into fire trucks. More compact, safer, more functional – the new FZ1000 GEN III features numerous improvements that make the generation of firefighting foam in fire trucks more efficient and convenient.
For extinguishing water flow rates from 40 to 1000 l/min
Foam proportioning rates: 1 and 3 %
Wetting agent proportioning rates: 0.1 and 0.3 %


Here you find the most frequently asked questions on FZ1000:
Due to the purely mechanical operating principle, the drive takes place without external energy, and is independent of the on-board power supply.
In addition, no flushing process is necessary. Foam or wetting agent remains in the sturdy proportioning pump.
FOR ALL TYPES OF DISCHARGE DEVICES

The new FZ1000 is suitable for all types of discharge devices.
ALSO SUITABLE FOR FOAM AGENTS WITH MEDIUM VISCOSITY

Fluorine-free and/or alcohol-resistant foam agents can be very viscous. The new vehicle unit is also suitable for foam agents with medium viscosity, as the proportioning pump of the FZ1000 has been specially designed for this purpose.
CONSTANT PROPORTIONING RATE

The water motor and proportioning pump ensure that the extinguishing water's pressure and delivery rate have no effect on the accuracy of the proportioning. The selected proportioning rate is precisely maintained under all operating conditions. The length and layout of the extinguishing water lines also have no effect.
request a quote
You are interested in a FZ1000 foam proportioner? We will be happy to help you along. Request a non-binding quotation from us!
Start inquiry
stay informed
The FireDos newsletter always keeps you well-informed. Stay up-to-date on all aspects of fire extinguishing technology.
Subscribe now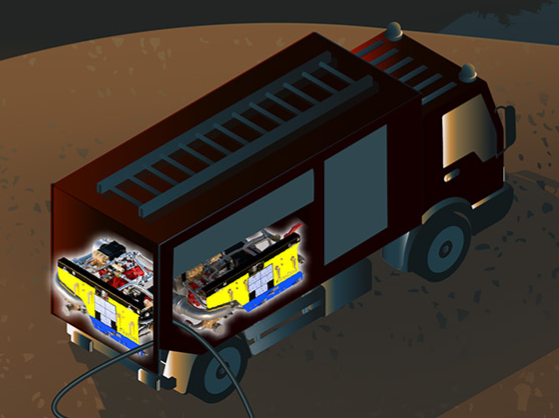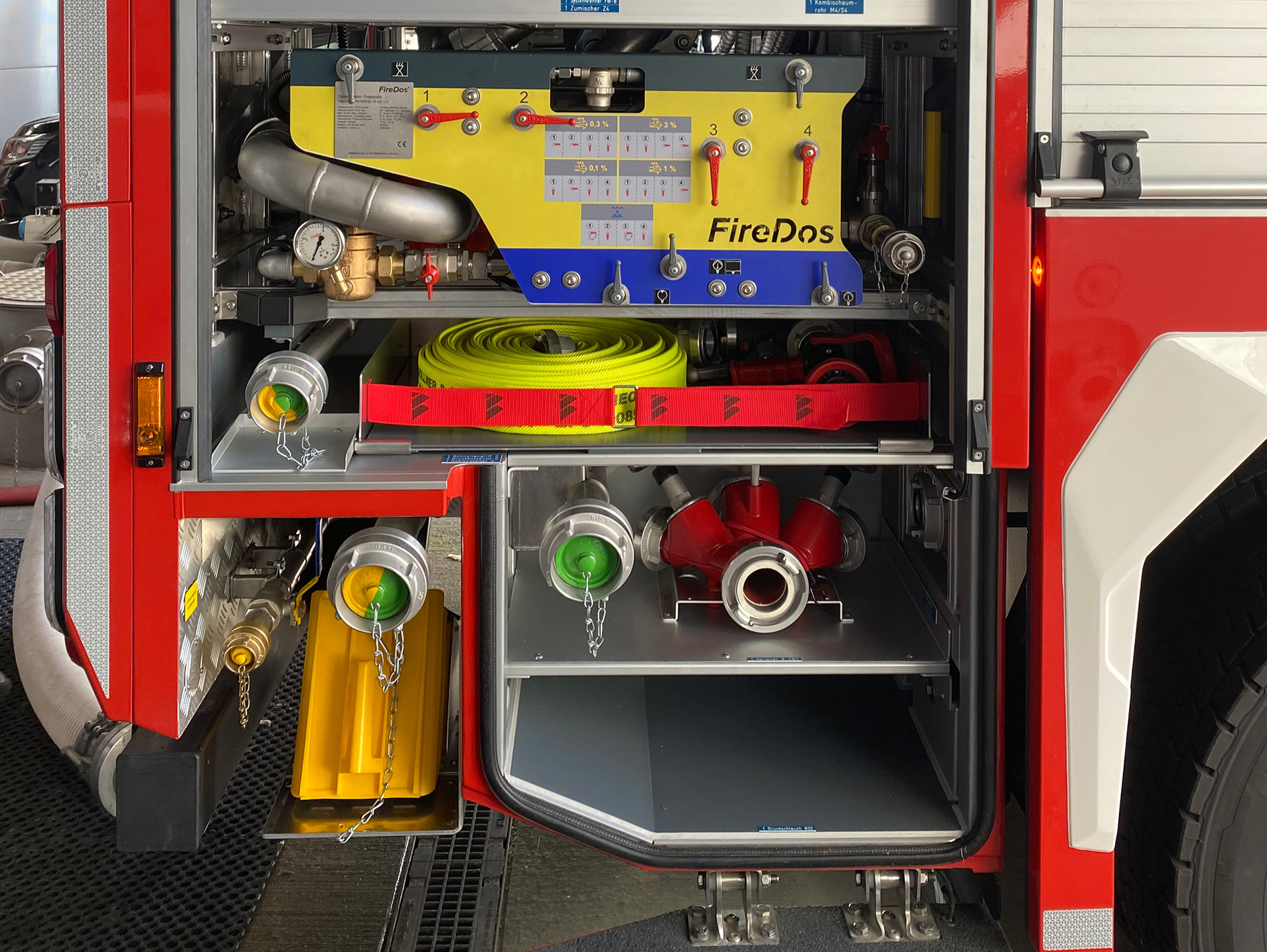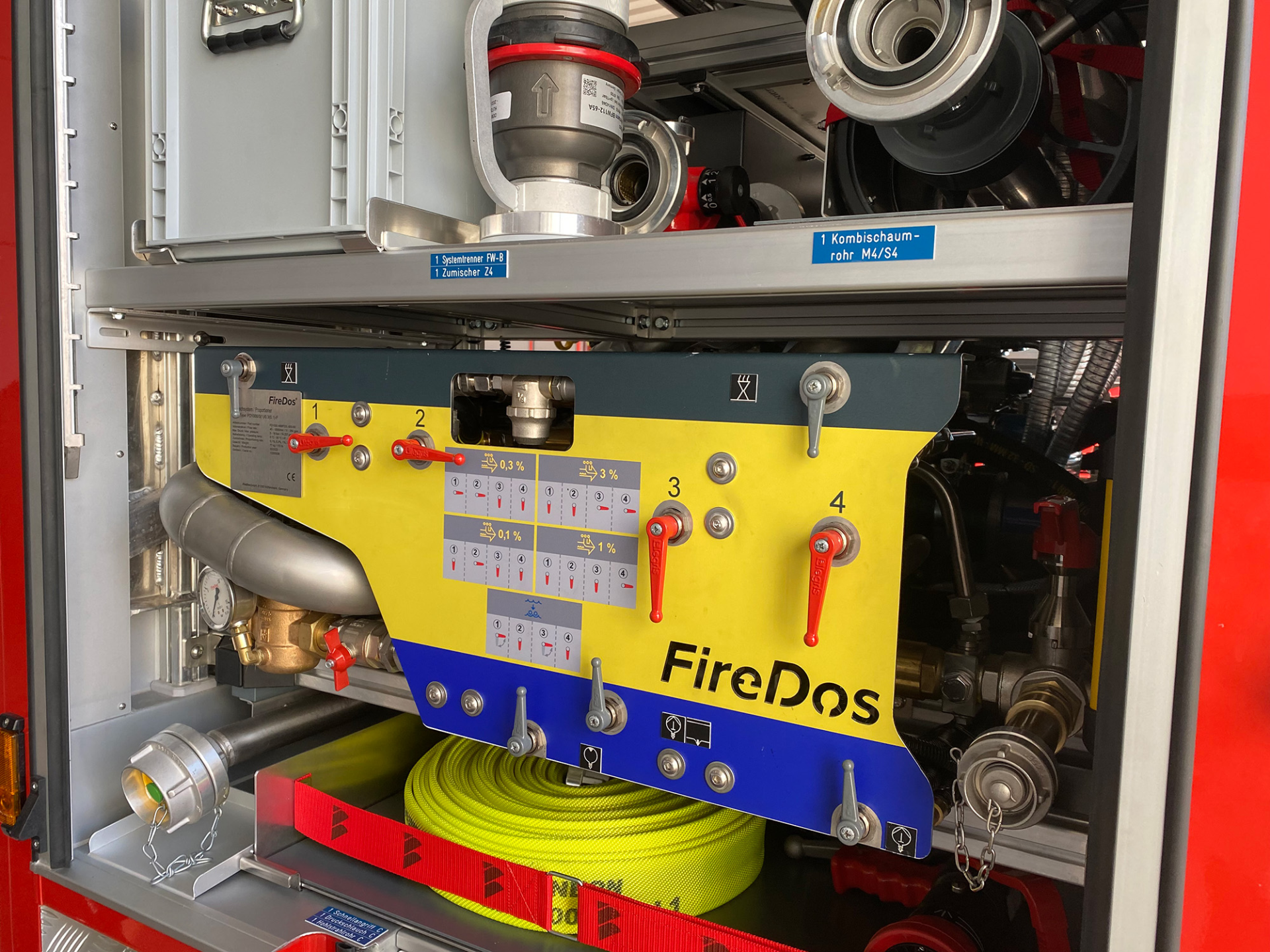 Do you have questions? Are you interested in a live demo? Contact us!