Maintenance and repair work as a fire risk
Aircraft hangars
When aircraft are parked in a hangar for maintenance, repair, or storage, they are not usually fueled up. However, a certain amount of fuel can remain. As a result, maintenance and repair works increase the fire risk due to potential ignition sources. Along with this, the size and height of the hangar present some special requirements for the fire protection concept. Hangars must be constructed according to the guidelines of fire class HH (high hazard) and according to the design standards NFPA 409 and BS 13565-2 regarding to the respective gate and aircraft type.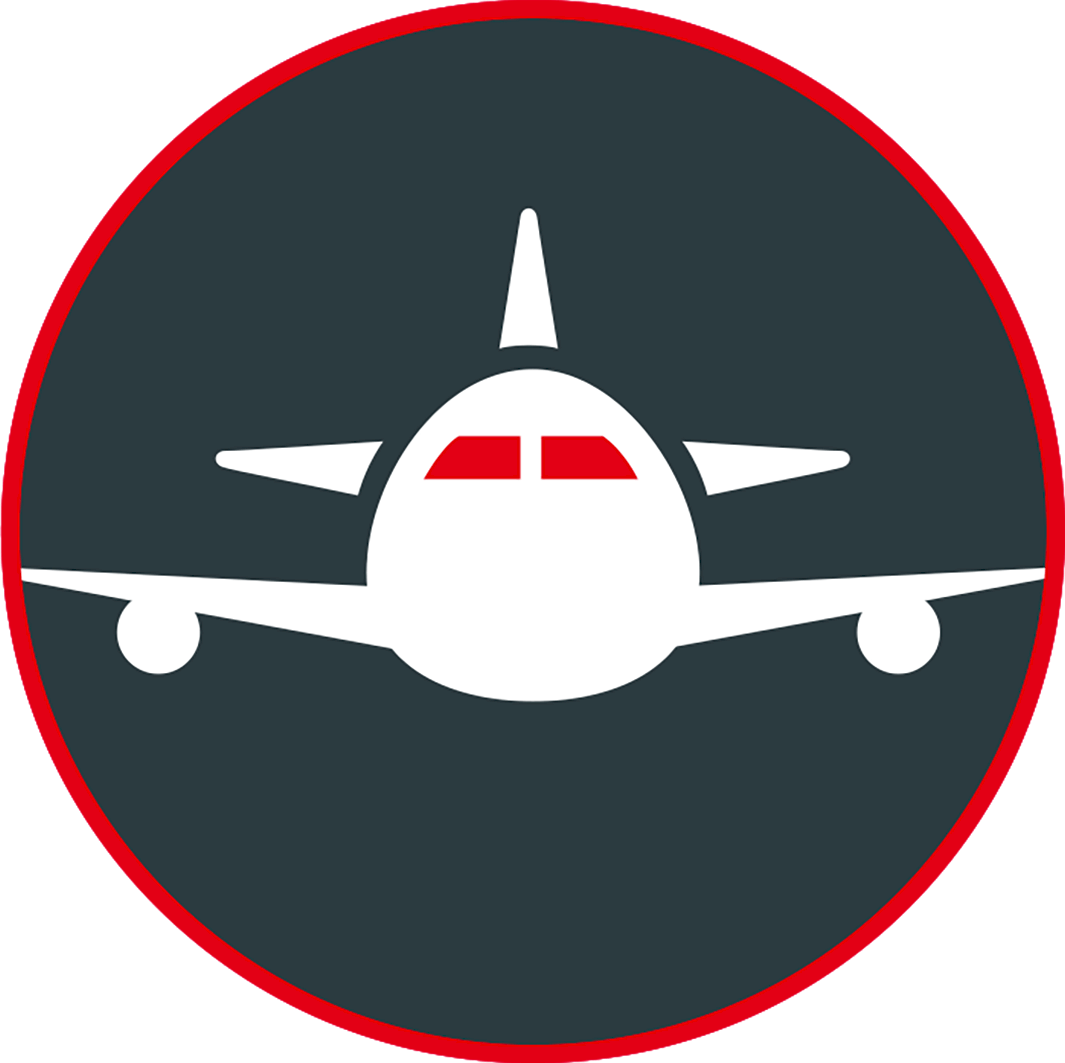 Goods to be protected:
Flammable liquids in aircraft, e.g., fuel
Requirements to firefighting technology
Firefighting Foam is a critical element in hangar firefighting, where high-expansion foam generators are commonly used as part of a fire protection system. They are mounted at ceiling height and supplied by a foam proportioner. In the event of a fire, the hangar must be foamed up within 3 minutes, up to a height for doors and walls of 1.5 meters.
Fires may break out in various places in the hangar. However, the biggest potential ignition source is below the aircraft's wings as leaking fuel may gather there. This is why the extinguishing technology planning must consider all options while the area under the wings must be specially protected. This is often mandated by law for a wing size of more than 280 sqm. Thus, in the event of a fire, the extinguishing foam is discharged with pinpoint accuracy instead of covering the entire surface, which significantly reduces cleaning costs after such an extinguishing operation.
Infrared early fire detection systems
A fire detection system allows early localization of the fire source. Continuous heat detection helps determine whether the fire has been successfully extinguished or if further action must be taken.
Remote-controlled firefighting monitors for pinpointed extinguishing
Remote-controlled firefighting monitors integrated into the early fire detection system allow pinpoint extinguishing within a defined area for a defined duration: only until no more fire risk exists. For the protection of the area below the aircraft wings, it is recommended to use a combination of oscillating and remote-controlled monitors. In addition, FireDos monitors enable maximum reach thanks to the innovative, flow-optimized Oval Flat Design characteristic of FireDos compact monitors.
Reliable foam proportioners to supply the high-expansion foam generator
Stationary proportioners reliably supply high-expansion foam generators with premix to generate extinguishing foam. The purely mechanical FireDos proportioner is characterized by a constant proportioning rate across a wide range of flow rates and pressure of the extinguishing water, guaranteeing maximum reliability. In addition, it allows testing of the proportioning rate while producing no premix at all – a cost-saving and eco-friendly solution.


Firefighting monitors
Our monitors can be integrated into automated fire extinguishing systems and operated via remote control.
Stationary foam proportioners
Our stationary foam proportioners are highly reliable, guaranteeing a constant proportioning rate and the delivery of all foam agent types.
Fire risks in hangars
Maintenance and repair work
Maintenance and repair work can present various potential ignition sources which, in combination with aircraft fuels, pose a serious fire risk.
We are pleased to help
Live Demo
Test our products on-site? Contact us to arrange a LIVE Demo. We look forward to discussing your solution.
got questions?
Contact us!
Ph. +49 6036 9796-0
Email: info@firedos.de
FireDos Service FEATURES
We provide you with comprehensive service – from planning the extinguishing technology solution through commissioning to maintenance. No matter what project phase you are in, we won't let you down. Our service personnel will be on-site quickly, worldwide.
Please make sure to consider the following
Comprehensive fire protection concept with a special focus on the risk area below the aircraft's wings
Infrared early fire detection system
Remote-controlled firefighting monitors for pinpointed extinguishing
Reliable proportioners to supply the high-expansion foam generator
explore the virtual world of FireDos!
High-rack warehouse, tank farm or waste incineration plant – explore the virtual world of FireDos and test various product configurations in simulated application settings. Augmented Reality puts our products into your hands – just a click away.
Please note the following for easier navigation:
Use the number buttons to show the individual camera positions.
Use the buttons 'q' and 'e' to navigate up and down..
We look forward to meeting you in our virtual world!