New FM approval standard for foam proportioners
We at FireDos are seeing an increasing number of "water motor driven foam pump proportioners" and "electronically controlled foam proportioners" being introduced in the field of foam extinguishing systems. FM has developed new approval requirements for variable viscosity proportioners which set general and uniform conditions for an approval. These new approval requirements "Examination Standard for Foam Extinguishing Systems Class Number 5130" were released in May 2021.
Why does FireDos think the new FM approval standard was written?
Up to now, there have not been any uniform test criteria for the above-mentioned types of equipment that have been laid down in a unified binding approval standard. Over the past years, the requirements have been determined, based on various applicable sections of existing approval standards such as the "former" FM5130 and FM1313. This led to situations where the special characteristics of differing systems could not always be compared directly.
In addition, we are seeing the transition of a substantial amount of foam extinguishing systems to new, fluorine free foam agents. So far it seems that a lot of these fluorine free foams have properties that vary from existing AFFF, AFFF-AR and Class A foam agents. We see higher viscosities and a greater influence of temperature on the flowability.
FireDos is a big supporter of the new FM approval standard!
In our opinion more stringent testing requirements are necessary, as a comparison of different systems under realistic operating conditions is difficult in practical situations. We feel the new FM approval standard is taking this into account. Following are some examples showing where test criteria were modified:
The minimum flow threshold is now given with indication of system pressure
Pressure loss is given with indication of system pressure
Test points through the entire working range during approval tests are specified for testing viscous fluids.
The viscosity of foam agents is specified with indication of the shear rate
Overload tests have been added and have consistent requirements
the new standard
FM Approvals, together with manufacturers of water-motor-driven-foam-pump-proportioner-technologies, such as FireDos, developed a new test standard, which was integrated in the new revision of FM5130 under the scope of "variable viscosity proportioners". This new approval standard was applied to certify the FireDos GEN III proportioners.
Unchanged from previous standards, the proportioning rate measured in all tests shall match the specified rate within a tolerance of -0% to +30%, as specified by NFPA 11.
In section 4.26 the new test standard requires - among other criteria mentioned in FM5130 - the following tests:
Significantly extended test point matrix including backpressure and viscosity dependence focusing on "worst case" scenarios:
- Minimum flow, minimum backpressure, minimum foam agent viscosity
- Minimum flow, maximum backpressure, minimum foam agent viscosity
- Minimum flow, maximum backpressure, maximum foam agent viscosity
- Medium flow, minimum backpressure, minimum foam agent viscosity
- Maximum flow, minimum backpressure, minimum foam agent viscosity
- Maximum flow, maximum backpressure, minimum foam agent viscosity
- Maximum flow, maximum backpressure, maximum foam agent viscosity
10 minutes of dry operation with a following self-priming test
24h continuous endurance test at maximum flow
Flange and gasket tightness test for 5 minutes at 2 times nominal pressure (32 bar with GEN III)
Hydrostatic strength test for 1 minute at 4 times nominal pressure (64 bar with GEN III)
Salt fog corrosion test for 240 hours
Friction loss test
Overflow test at 110% for 1 hour
Overflow test at 150% for 4 min
Record of viscosity data with reference to the shear rate for the minimum and maximum viscosity – the recorded viscosity data in relation to the shear rate, can then be overlayed with the viscosity curves of the foam agent to verify the compatibility of the system
A FireDos view of the possible effects of the new FM approval standard
With the revision of FM5130 and the introduction of the new testing requirements, all manufacturers must meet these new, in our opinion significantly higher requirements, for any new approvals. For products approved under the former approval requirements, the new approval standard may result in changes to the approved working ranges, such as:
Flow rate – Qmax and Qmin may have to be adapted
Pressure range – Pmax and Pmin may have to be adapted
Viscosity range – Viscosity will be presented with regard to shear rate and every proportioner must be tested for min. and max. flow rate and min. and max. pressure for the min. and max. specified viscosity.
The following curves show the difference between the FM approved plunger pump technology used by FireDos in comparison to gear pumps.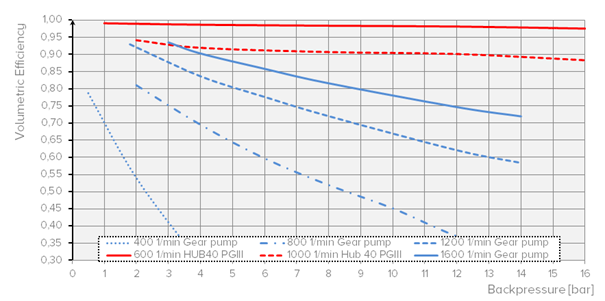 Bear in mind, that the FireDos plunger pump is specially designed for pumping foam agents of all viscosities, in comparison to 'off the shelf' pumps used by competitors that are designed for pumping fluids with properties similar to water. Gear pumps, which show good performance when run at high rotational speeds, fixed flow rates and fixed back pressures, struggle in their efficiency when used with changing operating conditions such as flow range, backpressure, and viscosity. Varying operating conditions may cause problems with the proportioning rate when using gear pumps. Especially water motor or water turbine driven gear pumps operated at low flows and therefore low rotational speeds at the shaft, show very poor efficiencies, especially at high pressures, making them hardly useable for sprinkler systems. Depending on the viscosity of each foam concentrate used in specific applications, this results in a very different working range for the proportioner. FireDos Gen III proportioners offer a FM Approved working range from Qmin to Qmax of up to 1:15 (see FD8000/3-S which has a FM Approved working range of 520 l/min to 8000 l/min or FD20000/3-S with 1330 l/min to 20000 l/min). With gear pumps in comparison, in many cases, Qmin to Qmax ratios of only 1:2 or 1:3 can be expected.
In addition, the FM approved FireDos Gen III water motor coupled variable proportioners are certified to be used with FM approved flow meters. Using the test return line this offers the possibility to check the proportioning rate during commissioning as well as for annual tests, without creating any premix, which is a very big benefit for the user and relieves the environment.
To our information the compliance date for the new FM standard for all water motor driven foam pump proportioners is November 2022.
With the existing FM approval for the GEN III proportioning systems, that was conducted in accordance with the new standard, FireDos is well equipped for the future requirements of the market. With this in mind FireDos has decided to abandon the FM approvals of all older generations of proportioners, once these have been withdrawn by FM Approvals.