Selection criteria for fire trailers with monitor and / or proportioner
TRAILERS FOR FIREFIGHTING WITH WATER AND FOAM.
Fire trailers are used when some extra flexibility is required on site. Factory or voluntary fire brigades frequently use trailers as an extra extinguishing unit for emergencies. The options of equipping the fire trailer with a monitor, proportioner or both depend on the intended use.
Mobile fire monitors are discharge devices available in many sizes, installed on vehicles or trailers. The extinguishing agent flow rate of the FireDos monitors s up to 60 000 l/min. Sufficient pressure allows a reach of up to 180 m.
FireDos trailers
TYPICAL FIELDS OF APPLICATION FOR MOBILE FIRE MONITORS
The fire monitors are suitable for the discharge of water or foam; e.g., to extinguish oil tank fires. In addition, they can be used to cool down neighboring tanks or the wall of a tank on fire. This can keep flames from jumping over as well as prevent critical temperatures being reached for a boil-over. In addition to tank farms, typical applications are found in refineries and chemical plants as well as wood and paper storage sites.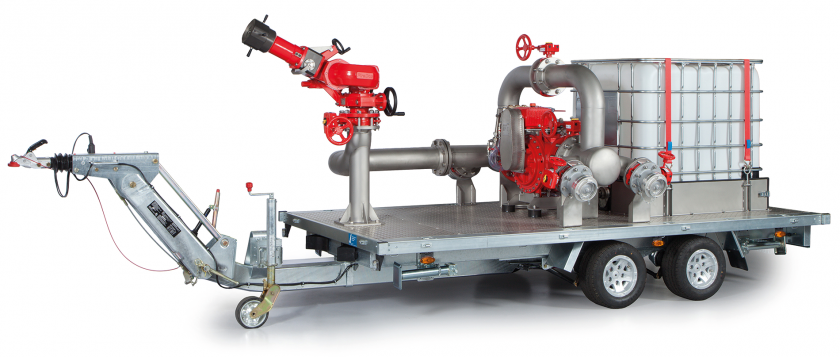 FOAM PROPORTIONING VIA MOBILE PROPORTIONERS
Mobile fire monitors can be fed by either the extinguishing water flow of stationary fire pumps or via mobile pumps. The foam agent is usually injected via mobile proportioners. FireDos proportioners are purely mechanical and are driven solely by their water motor. Mobile systems are a particularly exceptional fit due to independence of external energy and easy refilling of the atmospheric foam agent tanks.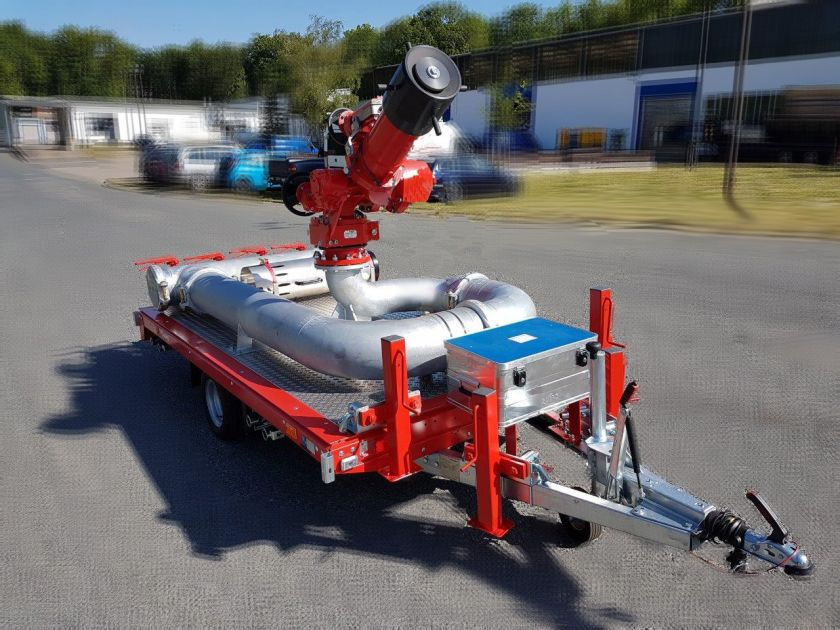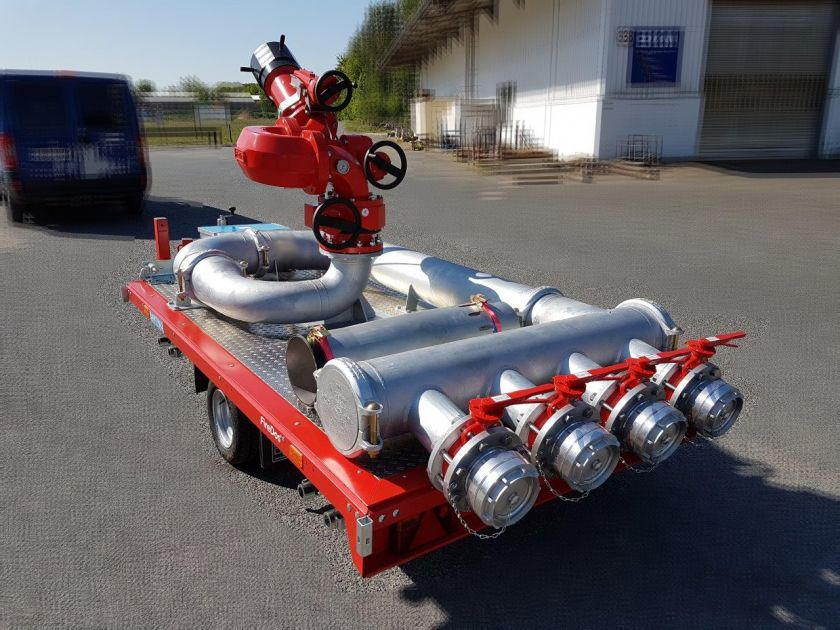 THE SIZE OF THE MONITOR MAKES THE DIFFERENCE
The intended type of use determines which monitor size to select. The selection criteria are described using the following example: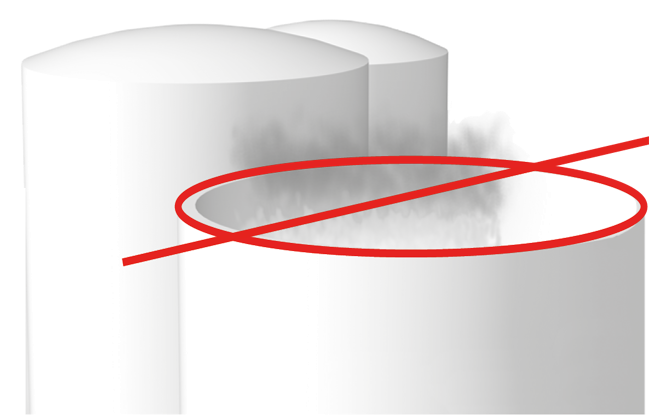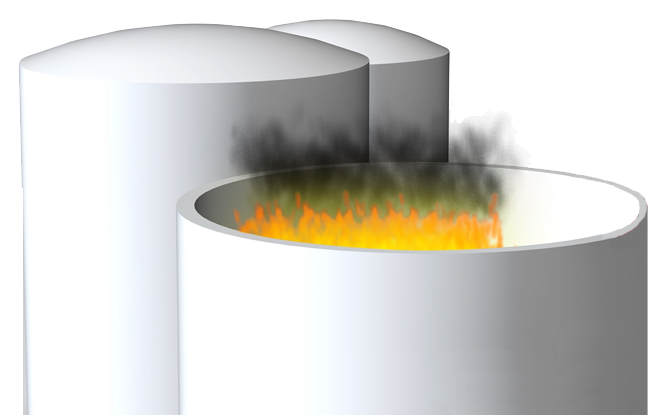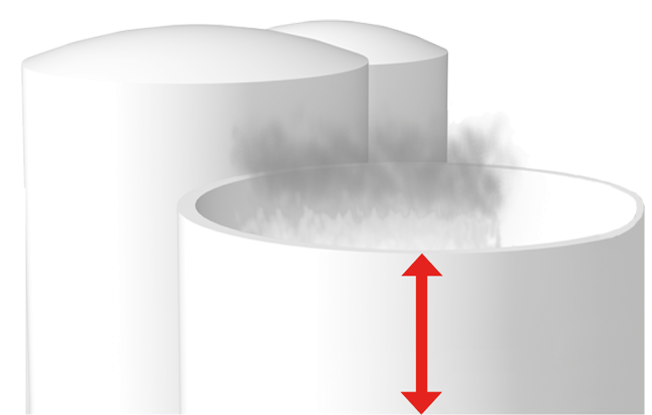 According to NFPA recommendation, approx. 32 000 liters of premix per minute are necessary for effective firefighting. The proportioner must be designed for 32 000 l/min as a minimum and, if possible, shall handle varying flow rates to allow flexible response during firefighting.
Depending on their location, the monitor position must ensure a minimum distance to the burning tank. In addition, it may not always be possible to place several monitors at equal distances around a tank. The monitor's throwing height must be sufficient to deliver foam to the inside of a tank, depending on the actual tank height, which is 15 m in this case.
| | | | |
| --- | --- | --- | --- |
| Monitor size | Quantity | Distance from tank [m]* | Flow rate [l/min] |
| M9 | 1 | 95 | 40,000 |
| M7 | 2 | 80 | 20,000 |
| M5 | 3 | 60 | 12,000 |
| M4 | 4 | 45 | 8,000 |
Monitor distance from tank, subject to extinguishing agent flow rate
*Maximum distance from tank to ensure sufficient foam gets into the tank
ADVANTAGES OF A FIRE TRAILER WITH MONITOR AND PROPORTIONER:
One compact unit with monitor, proportioner and foam agent tank. No additional hose connections to auxiliary equipment are necessary.
The water flow rate can be adapted during operation interruption-free, also while foam is flowing.
Exact and constant proportioning rate across a wide range of water flow rates
Connection of fire hoses parallel to the monitor
Quick and easy proportioning rate adjustment during operation by using an optional cylinder cut-off on the proportioner pump head
Easy and quick integration of the fire trailer in the extinguishing operation