Update: CHANGING A FIREDOS PROPORTIONER OVER TO FLUORINE-FREE FOAM AGENTS
We are still receiving a large number of enquiries about how to proceed with regard to FireDos proportioners in case of changing over from a foam agent containing fluorine to a fluorine-free foam agent. Due to recent developments we have amended our set of guidelines.
Is it sufficient to clean the proportioner, or do any components have to be replaced? We have interviewed several experts in the field of chemistry/foam agents regarding this matter resulting in differing opinions. As a result, we have erred on the following approach.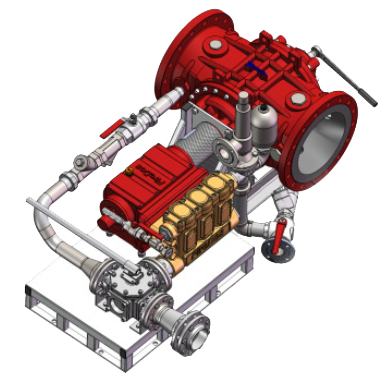 Changing a FireDos proportioner over to fluorine-free foam agents requires a certain cleaning procedure.
WHEN CAN A FIREDOS PROPORTIONER BE REGARDED AS 'FLUORINE-FREE'?
Any parts in the proportioner, including suction line and return line, can be considered to be fluorine-free only after the following work steps have been carried out as a minimum. Fluorine-free means that the remaining contamination falls below certain thresholds.
How to proceed:
Complete disassembly into all individual parts as far as they are exposed to foam agent or premix
Replacement of all plastic parts (elastomers and thermoplastics)
Thorough cleaning of all remaining parts; the proper disposal of any contaminated water lies within the customer's responsibility
Re-assembly followed by a functional test

We will be pleased to carry out the above work steps.
CHECKING THE DIMENSIONING OF FOAM AGENT TANK AND SUCTION LINE.
Some fluorine-free foam agents are far more viscous than the previously used AFFF or AFFF-AR foam agents. When changing over, it is therefore a must to review the calculation/dimensioning of foam agent tank and suction line in order to further guarantee precise and reliable proportioning. We will be happy to assist you in this issue, too.