Interview with Frank Preiss and Andreas Hulinsky of FireDos
GEN III FOAM PROPORTIONERS: "A MIXTURE OF ROADSTER, VAN AND ELECTRIC CAR"
FireDos is setting new standards, having introduced the new GEN III foam proportioner. 'Reduce risks, reduce costs and enhance performance' - this would sum up nicely what the user's benefits are. What makes the difference to the previous generation? Which foam concentrates can GEN III handle? Managing Director, Frank Preiss and Product Developer, Andreas Hulinsky answer questions in this interview.
The time was ripe for realizing the ideas which arose from experience with over 13000 units installed in a new generation of proportioners.

Frank Preiss, Managing Director of FireDos GmbH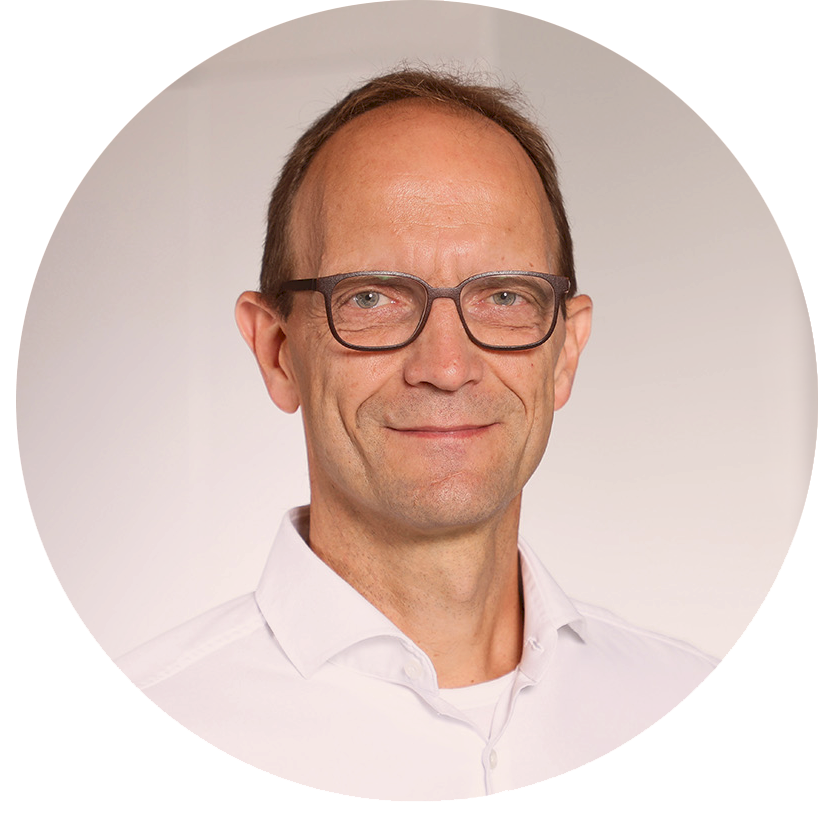 MR. PREISS, WHAT WAS THE REASON TO DESIGN THE NEW GEN III PROPORTIONERS? WHAT MAKES THEM DISTINCT FROM THE PREVIOUS GENERATION?
"Since water-motor driven piston-pumps used to mix foam concentrate into the extinguishing water, were introduced more than 25 years ago, FireDos has followed a process of continuous improvement for this technology. The time was ripe for realizing the ideas from our experience with over 13000 units installed in a new generation of proportioners, even more so as the foam concentrates have changed during the past few years, making their delivery more and more demanding.
The most notable differences between the GEN III proportioners and their previous generation include improved suction capacity, pressure loss reduction and the ability to exactly proportion even highly-viscous foam concentrates across an extremely wide extinguishing water range.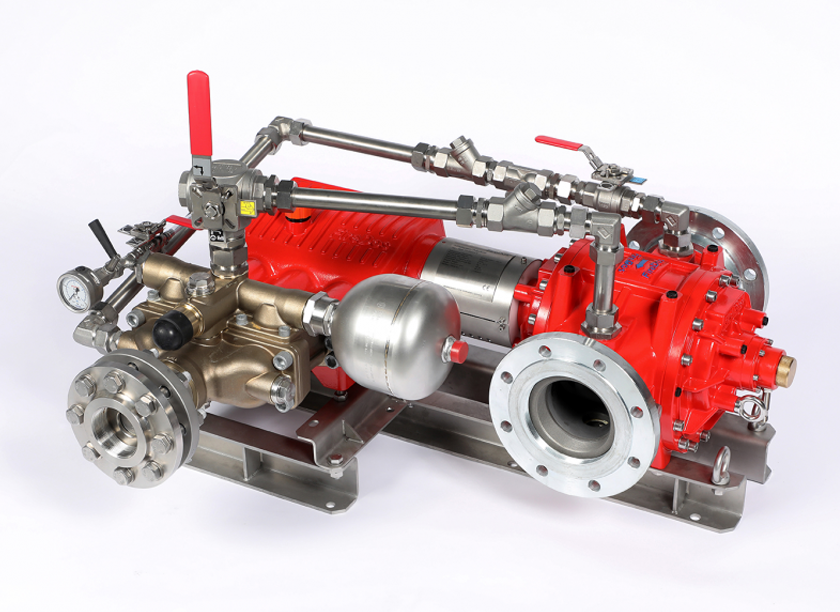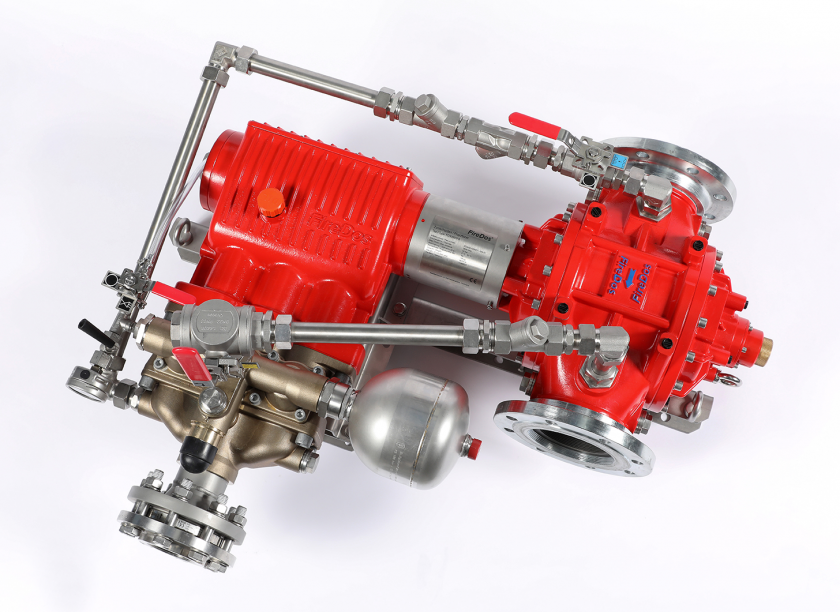 GEN III HAS BEEN DEVELOPED TO HANDLE ALL FOAM CONCENTRATE TYPES; IN PARTICULAR, HIGH-VISCOSITY (FLUORINE-FREE) FOAM CONCENTRATES. HOW IS GEN III DESIGNED TO GUARANTEE TROUBLE-FREE OPERATION WITH HIGH-VISCOSITY FOAM CONCENTRATE? WHICH USERS WILL BENEFIT MOST FROM THIS?
The concept of GEN III, the connection of a water-motor and a piston-pump has proven itself in-service thousands of times and has not changed compared with the previous models.
The adoption of Computer-Aided Design (CAD) methods has optimized the interaction of all components and has thus reduced the stress on them. This results in improved efficiencies, giving the user a more reliable and functional system.
Thanks to the improved layout of optimized components, the interaction of all parts has been perfected, reducing stress points. This yields improved efficiency, increasing the system's reliability and functionality.
Numerous tests and operating hours under extreme loads were conducted at our unique test bench to prove the proportioner's reliability. This has been verified by FM and also VdS in the course of their test series. Along with 24-hour continuous running, these series included dry-running and Overspeed tests as well as proportioning rate measurements with fluid and highly viscous foam concentrates.
All industries where flammable liquids are stored or delivered will benefit from GEN III. The proportioner's reliability considerably reduces the risk of malfunction in case of a fire and when operating over a prolonged period. Typical fields of application are in industries such as logistics, chemistry, oil & gas as well as automotive, aerospace, and marine. Increasingly, foam concentrates are also used for firefighting in waste incineration and sorting plants.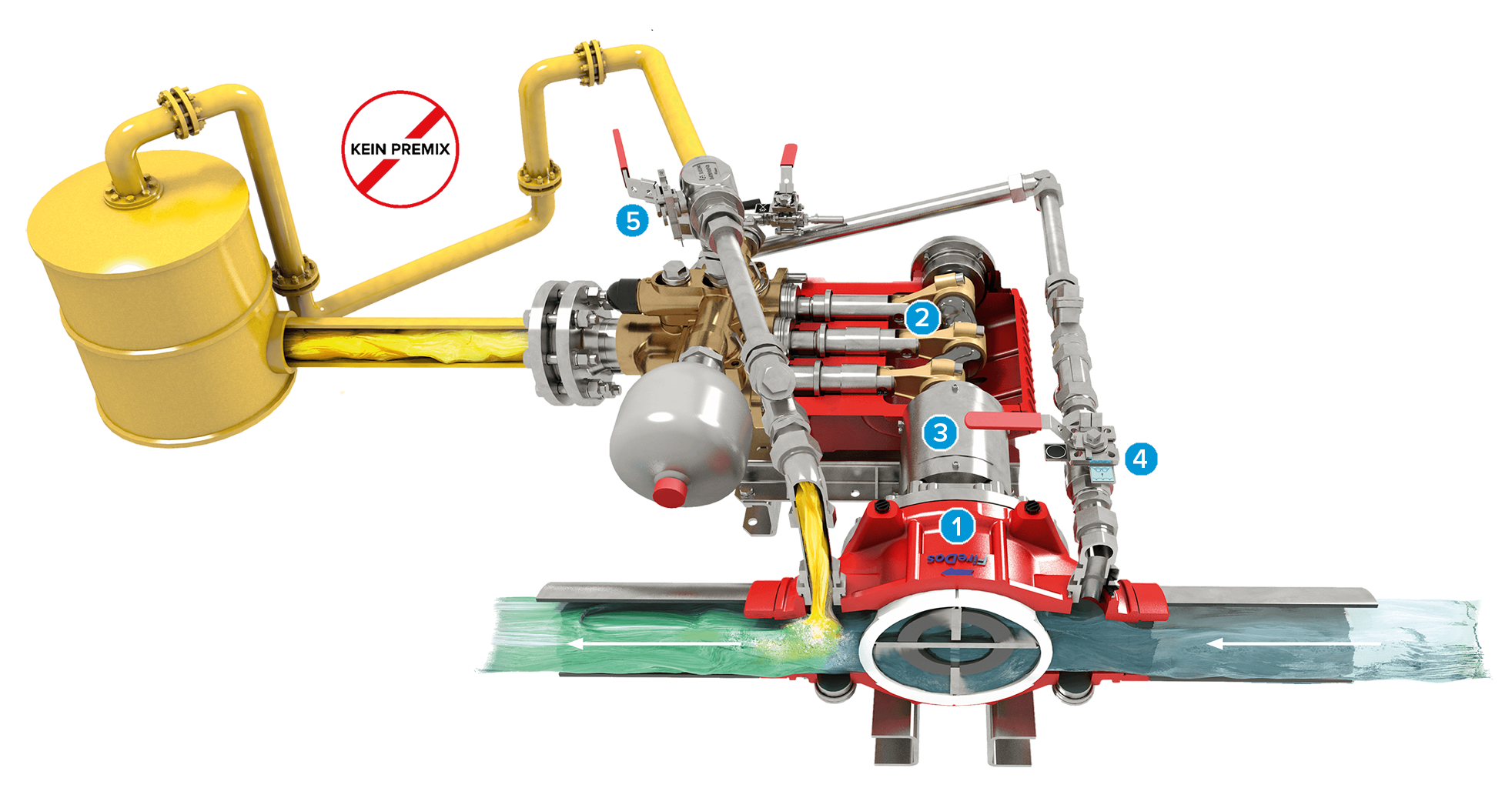 OBTAINING THE FM APPROVAL, YOU HAVE REACHED A MILESTONE AS FM TIGHTENED THE APPROVAL CONDITIONS. WHICH TEST RESULTS IMPRESSED YOU MOST?
In light of the reworked requirements catalogue, it is hard to pick just one issue, but I was impressed with the 24-hour continuous running of our FD20000 at a maximum flow rate of 1200 m3/h. This becomes even clearer if you consider that the energy generated into our 125m3 water reservoir during pumping would have been enough to heat the water by 40 °C if it hadn't permanently been cooled down.
YOU HAVE KEPT THE PURELY MECHANICAL FIREDOS PRODUCT CONCEPT ALSO WITH GEN III. WHAT ARE THE BENEFITS FOR THE USER COMPARED WITH OTHER TECHNOLOGIES?
The main advantage lies in the fact that it is a purely mechanical system which operates as soon as the fire pumps start running. Also, this system features an exact proportioning rate across a very wide range of flow rates, no matter what kind of foam concentrate is used or how varying the on-site/discharge conditions are. Last but not least, the advantage of proportioning rate testing while no premix or foam is generated. This protects the environment significantly and helps the user save on testing costs.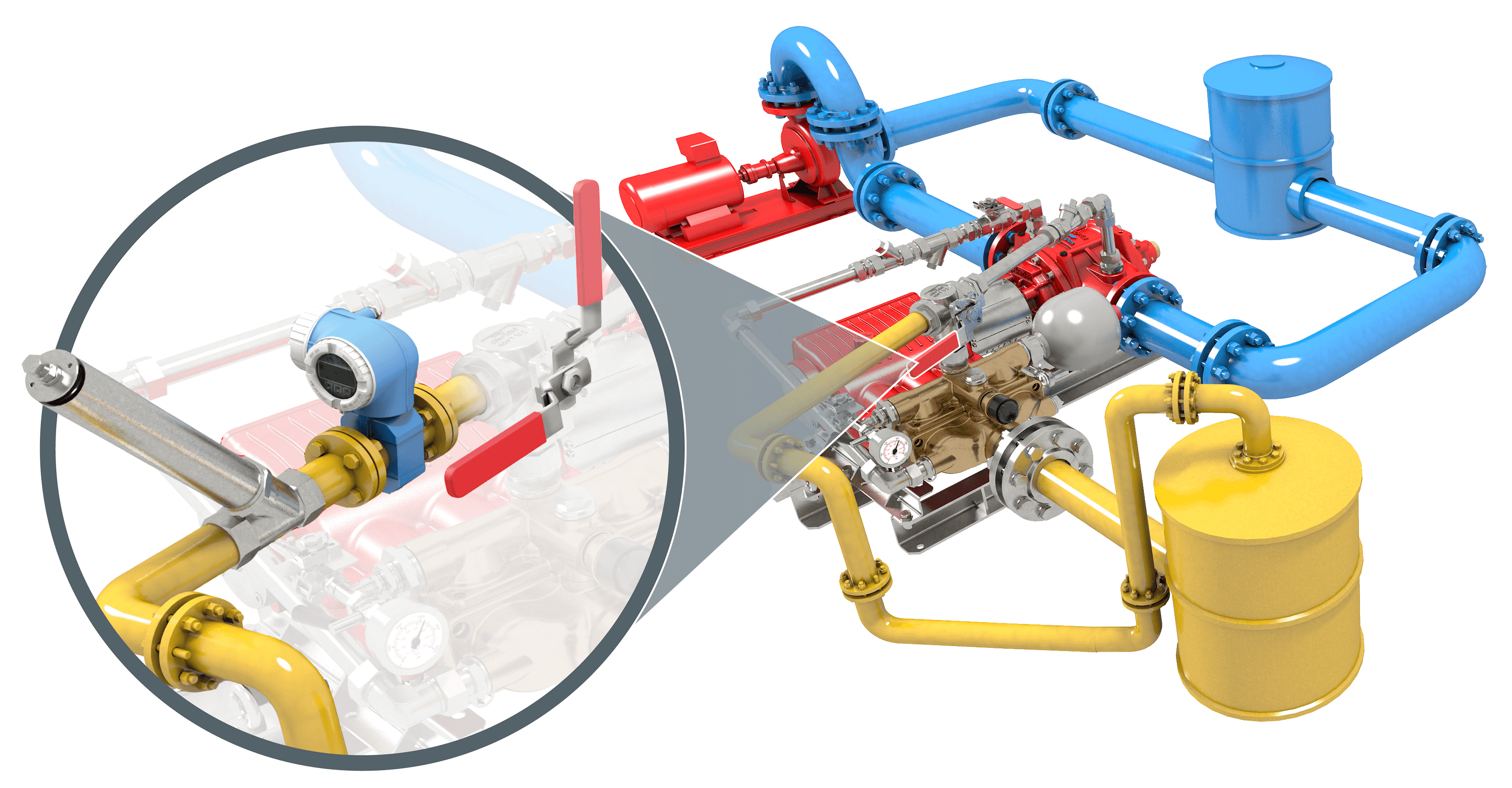 THE COMPANY FIREDOS WAS FOUNDED IN THE 1970S. WITH GEN III, THE THIRD GENERATION OF PROPORTIONERS IS ON THE MARKET. WHAT CAN FIREDOS CUSTOMERS EXPECT IN THE FUTURE?
Besides continuous optimization of new foam concentrates, our focus is on the user-friendliness of our units and their interplay in the firefighting process. We think about how to improve further the long-term reliability of FireDos products, e.g., by preventive or proactive maintenance. By doing so, users will reduce their equipment lifetime costs.
THE FIRE PROTECTION SECTOR IS EXPECTED TO SEE MAJOR GROWTH. HOW DO YOU ASSESS THE MARKET DEVELOPMENT? WHAT ARE THE GREATEST CHALLENGES?
Production facilities are becoming more and more complex and expensive, with plant operators being more and more involved in global supply chains. Nobody can afford production losses caused by system stoppages today. Therefore, incidents like a fire must be detected and responded to at an early stage. This is why continuous monitoring of plants and subsystems is becoming more and more important; and collateral damage arising from such incidents, such as extinguishing water damage, must be reduced to a minimum. This requires automated, interconnected fire detection and fire extinguishing systems with intelligent extinguishing concepts. FireDos will make contributions to achieve this goal.
In nur ca. 2,5 Jahren haben wir es vom Produktkonzept bis hin zur FM Zulassung und ersten VdS Anerkennung geschafft. Die Basis für diesen Erfolg war eine exzellente Teamleistung, bei dem alle an einem Strang zogen und viel Einsatz über das übliche Maß hinaus gezeigt wurde.

Andreas Hulinsky, Produktentwickler bei FireDos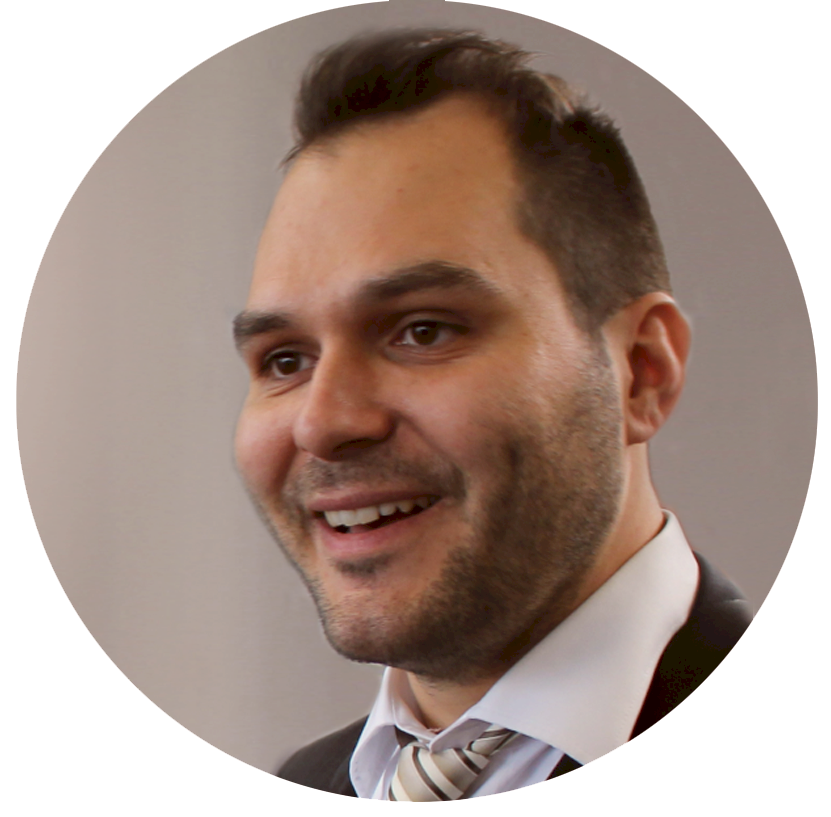 MANY PROPORTIONERS ARE INSTALLED IN FIRE EXTINGUISHING SYSTEMS AND CAN'T BE SEEN BY MOST PEOPLE IN EVERYDAY LIFE. HOW WOULD YOU DESCRIBE SUCH EQUIPMENT BRIEFLY TO SOMEONE WHO HAS NEVER SEEN IT BEFORE?
Many fires can be extinguished with foam solution only, or at least, more effectively than with water. For this purpose, the extinguishing water flows through a fire extinguishing system where foam concentrate is mixed into the water. The premix which is generated during this process is discharged through devices like sprinklers or foam pipes. Foam proportioners are devices that mix the foam concentrate into the extinguishing water at an exact ratio of proportioning. Essentially, this exact proportioning influences the success of firefighting. Foam proportioners ensure that the correct proportioning rate of the foam concentrate remains under all operating conditions which may occur.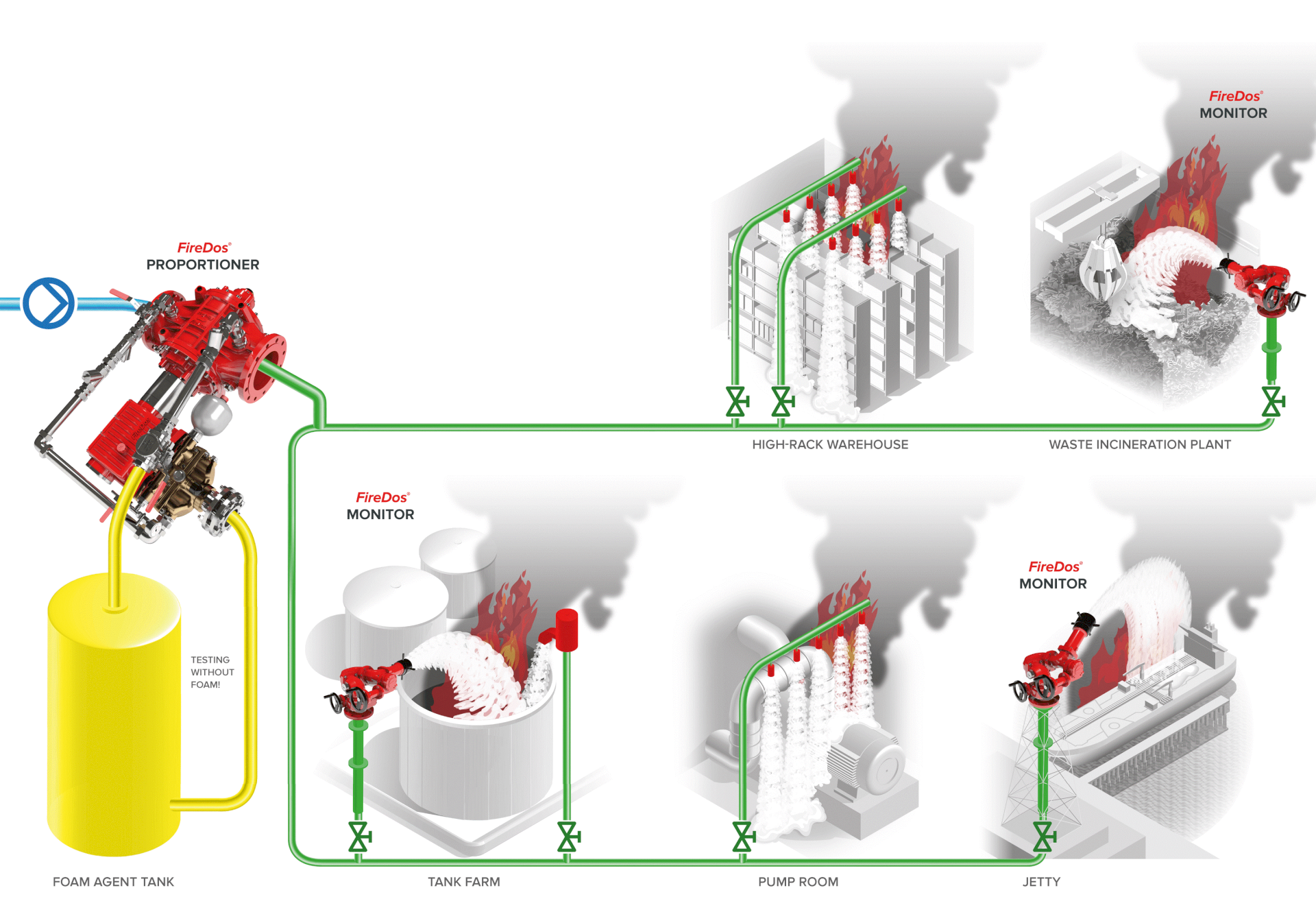 HOW MUCH TIME DID THE DEVELOPMENT OF GEN III TAKE? WHAT WAS THE GREATEST CHALLENGE?
It was great to see how fast the FireDos team developed and completed product program of GEN III proportioners. It took just some 2 ½ years from the product concept until obtaining the FM Approval and the first VdS approval. The basis for this success was from the excellent FireDos teamwork where everybody acted in concert. Also, using state-of-the-art software like a modern CAD system, including integrated Finite Element Analysis (FEA) and Computational Fluid Dynamics (CFD) tools helped us shorten the development time. A major challenge was to make prototypes for testing available quickly.
GEN III HAS EXCEEDED MANY EXPECTATIONS AND DEMONSTRATES HOW STURDY ITS DESIGN IS. DID YOU EXPECT THAT?
The FireDos GEN III is fit for universal use in all kinds of fire extinguishing systems, requires no calibration to operate with the foam concentrate to be used, covers a very wide range of water flow rates and, in practice, is flexible in its use for many application scenarios. In addition, thanks to the efficient testing option that does not use foam concentrate, a system operator has a real and significant cost advantage compared to alternative proportioning systems.
IF YOUR BEST FRIEND WAS A SYSTEMS PLANNER OR FIREFIGHTER, HOW WOULD YOU CONVINCE HIM OR HER OF GEN III?
Das FireDos GEN III ist universell in allen Löschanlagen einsetzbar, erfordert keine Kalibrierung auf das jeweilige Schaummittel, deckt sehr breite Löschwasserstrombereiche ab und bildet mit seiner Flexibilität in der Praxis einmalige Möglichkeiten ab. Darüber hinaus hat ein Anlagenbetreiber durch die effiziente Testmöglichkeit, bei der kein Schaummittel verbraucht wird, einen echten und nennenswerten Kostenvorteil im Vergleich zu alternativen Zumischsystemen.
CONSIDERING THE GERMANS LOVE OF THE MOTOR CAR, COMPARING GEN III WITH A CAR, WHICH MODEL WOULD MATCH GEN III?

It's impossible to summarize all the advantages of our GEN III proportioner in just one model. The design rather reminds me of a stylish roadster. Its flexibility integrates the utility of a convenient family van. The functionality is more distinctive of an SUV. As no foam concentrate is used during testing, the operator contributes to the eco-sensitive and sparing use of resources like an electric car does, a fact which should receive more attention in the eco-conscious world of today.